Special Events and Recognitions
Upcoming Special Events
The Golden Jubilee
2022 will mark the 50th Anniversary of the Foster Grandparent Program (FGP) with Pepperdine University. Leading up to 2022, the FGP Advisory Committee is planning fundraisers and special events to commemorate the Golden Jubilee! If you would like to participate in the Planning Committee, contact Dr. Shanetta Weatherspoon directly at Shanetta.Weatherspoon@pepperdine.edu or at 310-568-5798.
Recent Special Events
Pepperdine's Foster Grandparent Program mourns the loss of Grandfather Frank Edward Staten. Grandfather Staten, our dear friend, United States Army veteran, and exemplary community servant passed away on December 21st, 2019. Frank Edward Staten was a valued volunteer for over three years and he will truly be missed by all.
Grandpa Staten, as he was affectionately called by the children, was a volunteer at the Girls Club of Los Angeles (GCLA), where he worked daily in the early childhood program. Grandpa Staten was proud of his commitment and made a lastly impact in the lives of the children and families he served. He was also a Peer Companion to six other Foster Grandparents. Even as he coped with his own health challenges, he was dedicated to building community with other Foster Grandparent volunteers by lending an ear and support when needed. Mr. Staten surely had the "gift of help."
"The work that I am doing with the Foster Grandparent Program keeps me going through it all." – Mr. Frank Edward Staten
Please help us celebrate Grandfather Frank Edward Staten's life and service on Thursday, January 9th. Please call Monica Pereda at 310-568-5595 for more information.
---
On October 22nd, 2019, two of our Foster Grandparents, Grandma Patricia Ford and Grandma Delores Williams, and our Program Director, Dr. Shanetta Weatherspoon, made their television debut on The Kelly Clarkson Show! In case you missed it, click the link to see the incredible impact our Foster Grandparents are making in the community!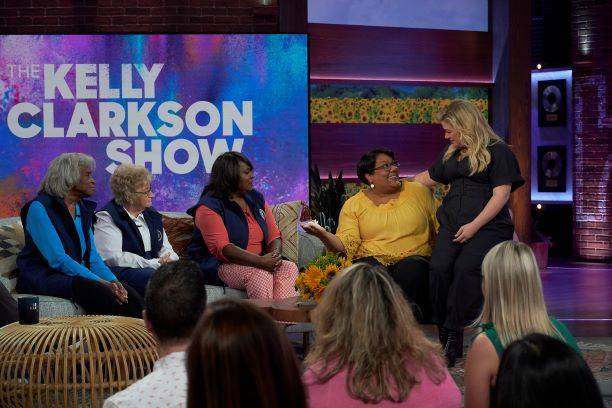 Past Special Events
On Tuesday, August 27th, 2019, our annual In-Service Training will be taking place at Jesse Owens Community Regional Park. Come join us for a Family BBQ, with our Foster Grandparents, station partners, and family and friends, from 10:00, am to 3:00 pm!
2018-2019 Awards and Recognitions
In the 2018-2019 Fiscal Year, the Foster Grandparent Program was awarded a number of achievements and recognitions. The program was awarded the NACo Achievement Award in 2019 for being an innovative county government program. Also, the Foster Grandparent Program implemented a Trauma-Informed Culturally-Responsive (TICR) Training for Mental Health Awareness Month on May 24th, 2019. 75 of our Foster Grandparents, as well as more than 25 staff, faculty, and community members learned strategies that promote their mentees' socioemotional health and connectedness with others in the community, including their teachers, peers, and parents, in order to be able to provide the support needed to prevent negative outcomes like suicide. Thank you, Dr. Isaiah Pickens, of IOpening Enterprises, for hosting the training and improving our Foster Grandparents' ability to handle their own personal trauma and mental health, as well as their mentees'. In addition, thank you to the California Mental Health Services Authority for awarding the Foster Grandparent Program the CalMHSA Grant, allowing this training and future trainings to be implemented relating to mental health awareness and suicide prevention.
Additional Recognitions
We would also like to give thanks to:
The Corporation for National and Community Services,
Our Advisory Board Members,
Our Station Partners,
Pepperdine University's Graduate School of Education and Psychology,
Pepperdine University's Research and Sponsored Programs,
The Graduate School of Education and Psychology's Budget Planning and Student Finance Department, and

All

of our Foster Grandparent Volunteers!
Thank you for your dedication and commitment to the Foster Grandparent Program in the 2018-2019 Fiscal Year. We look forward to teaming with you for the 2019-2020 Fiscal Year!
Credit to the Photographer
Rasheed Prescott
562-528-6269
krietiv.imagery@gmail.com