Master of Arts in Psychology

Social Understanding. Scientific Analysis.
The Master of Arts in Psychology program will prepare students for application to doctoral programs, to pursue a profession in the field of psychology, or to become better leaders in their industry.
Program Overview
Program Length / Units
1.5-2 years / 36-48 units
Unit Cost
$1,225
Start Terms
Fall, Spring, Summer
Campus Locations
West Los Angeles, Irvine, Encino (Please note that your campus of choice cannot be guaranteed. Campus offerings are contingent upon availability and subject to change.)
Online
This program is designed to provide students with a thorough understanding of the principles of psychology in an intimate and supportive learning environment. With a strong clinical emphasis, courses are focused on how the art and science of psychology can be applied to further our understanding of human behavior and the prevention, diagnosis, and treatment of mental and emotional disorders.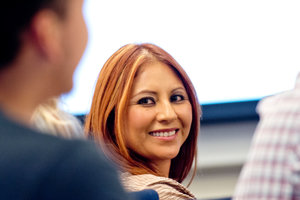 Program Benefits
Nationally regarded graduate school of psychology with the #6-ranked Psy.D. program in the US*
Access to major-university resources at the #46-ranked university in the US**
Outstanding faculty, recognized experts, scholars and clinicians
Values-based curriculum focused on personal and professional growth
Small class sizes providing a supportive learning environment and meaningful student-faculty interactions
Convenient class schedules offered on weeknights and occasional weekends
Extensive networking opportunities through our alumni network with more than 20,000 professionals
*U.S. News & World Report, Best Grad School Rankings, Clinical Psychology
** U.S. News & Report, Best Colleges Rankings, National Universities
Academic Merit Scholarship
GSEP is excited to announce a new scholarship for qualifying Master of Arts in Psychology students, effective Spring 2019. This $7500 merit-based scholarship is for full-time students enrolled in the GSEP MA in Psychology program. Students must have a cumulative 3.5 GPA or higher to qualify. The scholarship is awarded over the course of three academic terms and a 3.0 GPA or higher must be maintained during that time. This scholarship cannot be combined with any other scholarships. For more information, contact your Deanna Schwartz at Deanna.Schwartz@pepperdine.edu or 310.568.2357. Term and conditions for eligibility.