MA in Clinical Psychology - with MFT Emphasis

Changing Lives. Changing the World.
This cohort-based program provides an academic and practical foundation that prepares students to serve individuals, couples, families, and groups as licensed psychotherapists. Designed for full-time students, the Daytime Format program is offered at Pepperdine's Drescher Graduate Campus in Malibu and takes two academic years to complete.
Program Overview
Program Length / Units
2 academic years (6 terms) / 62 units
Unit Cost
$1,530
Start Term
Fall
Campus Location
Malibu
Formats
This program is designed to prepare students to work in community counseling, governmental entities, or educational settings, or to launch their own private practices. Course work offers a strong foundation in clinical psychology, counseling, and marriage and family therapy. As part of the program, students gain supervised counseling experience in clinical settings. The program meets educational requirements for licensure as either a Licensed Marriage and Family Therapist (LMFT) or Licensed Professional Clinical Counselor (LPCC) in California. The clinical training and academic preparation also equip students for doctoral programs in clinical psychology, counseling psychology, or family therapy.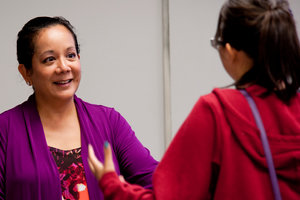 Program Benefits
Small cohort model provides a shared-learning experience with close peer interaction and support
Program completion in 2 academic years
Small class sizes and automatic class registration each term
Supervised counseling experience in the community begins during the second term of the program
Award-winning faculty members who provide mentorship, as well as real-world experiences that link classroom learning to field of practice
Professional development, whether you are obtaining your LMFT or LPCC licensure to launch your career or continuing your studies in a doctoral program
Opportunities to participate in student-lead interest groups, including Psi Chi, Research and Practice Team (RAPT), Spanish Language Enhancement Association for Therapists (SLEAT), and Christian Association for Psychological Studies (CAPS)
Extensive networking opportunities through our alumni network with more than 20,000 professionals
Easy access to Malibu campus amenities and graduate student housing