Career Services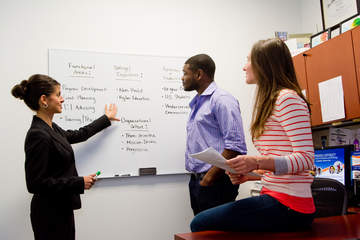 GSEP Career Services operates from an innovative model of career education and holistic career counseling for today's rapidly changing job market. We help students and alumni construct their career narrative, build lifelong employability skills, and connect with alumni and industry leaders in order to strengthen their lives for purpose, service, and leadership.
---
Student Learning Outcomes
Upon graduating from GSEP, students will be able to:
demonstrate self-knowledge by identifying their interests, values, and strengths
identify compatible career pathways and related occupational information
define one or more concrete career objectives to pursue, and implement an action plan
communicate the connection between their relevant qualifications and their career objective
---
Why Hire Pepperdine?
Pepperdine equips students for purpose, service, and leadership through rigorous academics that are grounded in Christian values. The small size of the school encourages students to actively participate in their courses, in turn building the soft skills and industry expertise that companies seek most.
Contact Us
Career Services
Pepperdine University
Graduate School of Education and Psychology
6100 Center Drive, 5th Floor
Los Angeles, CA 90045