Our Mission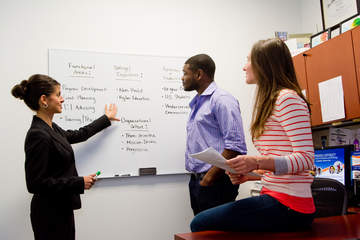 GSEP Career Services operates from an innovative three-pillar model of career strategy, community engagement, and research insights. Through genuine care, we provide lifelong career development support to students and alumni as they enter and succeed in a rapidly changing workforce. We empower each individuals' self-efficacy and honor the intersectionality of identities through their unique career journey of purpose, service, and leadership.
Our Visions
Every GSEP graduate will have the clarity, confidence, and community to access, thrive in, and transform the future workplace.
---
Our Values
Competence, Connectedness, Commitment, and Equity
---
Student Learning Outcomes
GSEP Career Services Student Learning Outcomes are based on three pillars: Career Strategy, Career Community, & Career Insights. Upon graduation, GSEP students will be able to:
Identify the next action step for their career objective (career strategy)

Improve their match rate between a resume and aspired job posting (career strategy)

Identify new networking contacts in their desired industry (career community)

Identify relevant career resources for gathering current labor market information (career insights)
---
Why Hire Pepperdine?
Pepperdine equips students for purpose, service, and leadership through rigorous academics that are grounded in Christian values. The small size of the school encourages students to actively participate in their courses, in turn building the soft skills and industry expertise that companies seek most.
Contact Us
Career Services
Pepperdine University
Graduate School of Education and Psychology
6100 Center Drive, 5th Floor
Los Angeles, CA 90045