PsyD in Clinical Psychology

Promoting Mental Health and Serving Society
The doctoral program in clinical psychology employs the practitioner-scholar model of professional training and prepares students to become licensed clinical psychologists, serving the community through applied clinical practice. It is accredited by the American Psychological Association. For further information about the accreditation status of this or any other psychology doctoral program, please contact the APA Office of Consultation and Accreditation, American Psychological Association, 750 First Street NE, Washington, D.C. 20002-4242, Phone: (202) 336-5979.
Program Overview
Program Length / Units
4 years / 82 units
Unit Cost
$1,550
Start Term
Fall
Campus Location
West Los Angeles (Please note that your campus of choice cannot be guaranteed. Campus offerings are contingent upon availability and subject to change.)
Through clinically relevant courses, clinical training, and applied scholarship, students develop a foundation of knowledge, skills, and values leading to meaningful careers as psychologists. Program curriculum is built upon the foundation of psychology as a science and offers comprehensive exposure to evidence-based assessment and treatment. Clinical training commences in one of four university community-based clinics and prestigious training institutions and medical centers throughout Southern California. Students participate in applied scholarship communities, conducting dissertation research with an emphasis on clinical application and sensitivity to multicultural contexts and individual differences.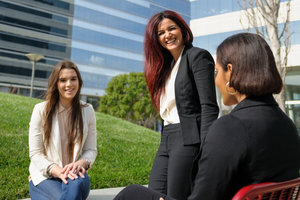 Program Benefits
Small class sizes provide a supportive learning environment with meaningful interactions between faculty and students
Curriculum and course pedagogy link theory to clinical practice
Dedicated assistance to help students secure internships
Nationally ranked university, prestigious program, and expert faculty
Dissertation research is completed within Applied Scholarship Communities, which provide close faculty mentorship and collaboration with peers and alumni
Students receive the preparation needed to become licensed clinical psychologists
Career Outcomes
Psychologists are needed in many clinical, academic, and professional settings, including universities, hospitals, and private practice. After earning your doctoral degree, you may pursue licensure and employment in a variety of roles, including:
Clinical Psychologist
Counseling Psychologist
School Psychologist
Professor of Psychology
According to the U.S. Department of Labor, Bureau of Labor Statistics
Jobs in Psychology will grow 14% between 2016 and 2026
The average annual wage for Clinical, Counseling, and School Psychologists in California was $94,910 in 2017
The average annual wage for Postsecondary Psychology Teachers in California was $105,740 in 2017