EdD in Organizational Leadership

Values-Based Leadership That Transforms
This program strengthens and develops leadership skills while preparing students to work in a wide range of settings. Individuals are equipped with the knowledge and ability to recognize, harness, and channel forces of change to transform organizations for optimal success and growth. It is recognized as the top doctoral program with an emphasis on leadership and organizational development by the Leadership Excellence Awards for 2016 for outstanding achievements in leadership and organizational development programs.
Program Overview
Program Length / Units + Dissertation Units

3.5 years average / 51 EdD units + (2 units per term until completion of dissertation)
Unit Cost
$1,550
Start Term
Fall, Spring
Campus Locations
West Los Angeles, Irvine (Please note that your campus of choice cannot be guaranteed. Campus offerings are contingent upon availability and subject to change.)
Embodying the scholar-practitioner program, which blends theory with real-world experience, the EDOL program is ideal for current leaders looking for relevant skills to expand their career path. It is also designed for rising executives who would like a doctoral degree to advance academic and professional goals. Emphasizing a humanistic approach to leadership, management, and change, the program prepares individuals to be visionaries within their organizations. Graduate students begin and complete the program with a cohort of business and academic professionals from diverse fields. The cohort model enables students to build upon leadership skills while forging valuable relationships with colleagues.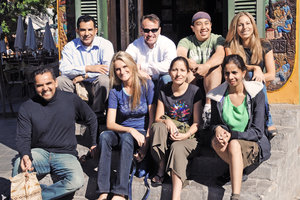 Benefits
Two program formats: Traditional and Global Access (60 percent face-to-face/40 percent online), ideal for working professionals
Flexible classes which meet in the evenings and on occasional weekends
Small class sizes provide an environment for faculty mentorship and the building of lifelong peer relationships
A supportive learning environment and faculty with exemplary academic achievements and professional experience
Scholar-practitioner model integrating theory and best practices
Required national and global trips to provide a well-rounded perspective on leadership and policy
Pepperdine network connecting you to influential business leaders in the community