Partner Spotlight
RepairSmith
Program Affiliate(s): Jasmine Hopkins and Jessica Chou
We highlight at least one of our station and/or community partners each quarter in order to celebrate the valuable collaborations that make the Pepperdine GSEP Foster Grandparent Program thrive. This quarter, we recognize RepairSmith! Click here to see the FGP and RepairSmith partnership video!
RepairSmith provides the world's most convenient car repair and maintenance service by coming to your home to complete the repair at a time that works best for you. On Tuesday, March 29th and Thursday, April 14th, the Pepperdine GSEP Foster Grandparent Program collaborated with RepairSmith, in order to host Volunteer Vehicle Support Workshops at the Girls Club of Los Angeles! During the workshops, volunteers were educated and empowered about their individual car needs, received free car diagnostic tests and learned the basics of preventive car maintenance (i.e. checking tire pressure, oil, battery, windshield wipers, etc.).
Fifty percent (75) of FGP volunteers use their personal vehicles to get to and from their volunteer stations, usually on a daily basis, serving between 25 and 40 hours per week. Although the FGP provides a mileage stipend of $0.585/mile, it does not cover the wear and tear on their personal vehicles. RepairSmith has been a vital resource to our volunteers in order for them to safely travel to and from their service stations in Los Angeles County.
Thank you to RepairSmith, Girls Club of Los Angeles and FGP Advisory Council President, Gloria Davis, for hosting and facilitating these workshops! We would also like to thank, Rhonda Snoddy-Smith, FGP volunteer since 2021, who connected us to RepairSmith.
All Pepperdine GSEP FGP volunteers are eligible to receive 20% off their first service with RepairSmith by using the code: FGP20! Contact 877.907.6484 to get started today!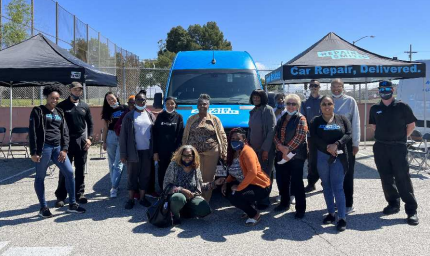 Pictured: FGP Volunteers with RepairSmith Representatives at GCLA!