GSEP Commencement Ceremony Information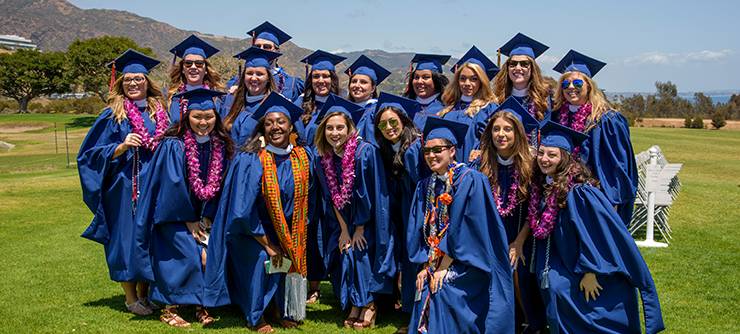 May 20, 2023
---
Date: Saturday, May 20, 2023
Eligibility: Master's students enrolled in education or on-campus psychology programs must complete all degree requirements by the end of the Summer (August) term. Students enrolled in the online psychology programs must complete all degree requirements by the end of the Spring (June) term. Doctoral candidates must file all required forms and documents for their Final Dissertation Defense by April 29.
Ceremony Time: Education Division 10:00 AM and Psychology Division 2:30 PM
Graduate Arrival: Education Division 8:15 AM for check-in and seating. Psychology Division 1:00 PM for check-in and seating
Location: Pepperdine Malibu Campus, Alumni Park, 24255 Pacific Coast Highway, Malibu, CA 90263. As this is an outdoor location, hats, and the use of sunscreen are recommended for your sun protection
Tickets: Guest ticket information will be forthcoming
COVID Vaccination Status: As the outdoor commencement ceremony is currently not considered a Mega event, we are not checking the vaccine status of each guest.
Livestream of the Ceremonies: Both commencement ceremonies will be live-streamed for guests unable to attend in person. Livestreaming will begin 15 minutes before the start of the commencement.
Regalia: By April 2023, graduates are responsible for renting or purchasing a cap, gown, and hood directly from Herff Jones. Regalia orders will be shipped directly to the graduate. There will be a charge to rent regalia and for shipping. More information can be found on the regalia page.
Guest Seating: There will be a sun-sensitive tent near the rear of guest seating and designated wheelchair/scooter seating near the front of guest seating. Both areas are first come first seated. Guests are NOT permitted to accompany graduates to the check-in area.
Parking/Accessible Placard Parking: There is no fee for parking on campus. A special parking area in parking lot P near Firestone Fieldhouse has been designated for those with accessible parking placards. Inquire at the information booth at Seaver Drive or John Tyler Drive for specific directions. Once you arrive at the special parking area, a public safety officer will assist you with parking. There will be golf carts servicing between parking lot P and Alumni Park. Another option would be to pull up next to Alumni Park, drop off the guest, and park elsewhere. Graduation hosts will greet guests as they enter the graduation arena and assist with seating.
Concessions: Water bottles/dispensers will be made available for all graduates and guests. Please check the vendors page for information about food, flowers, photos, and bookstore items.
Pets: Consistent with university policies, pets are not allowed at commencement services except for guide, service, or signal dogs.
For specific information regarding a division ceremony click the appropriate division button below