Lifelong Learning Women's Forum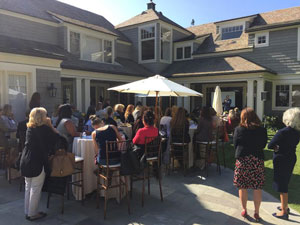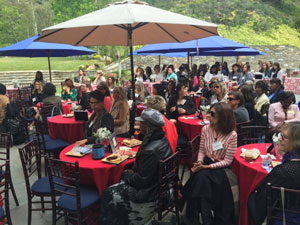 A private-invitation event for women, the Lifelong Learning Women's Forum exists to assist women in staying current on events and establishing sound, logical, and innovative positions related to issues that shape our world.
This Forum is held on the second Thursday of each month. One topic is addressed from a scholarly viewpoint, with the majority of sessions being presented by Pepperdine faculty. Each one-hour lecture is followed by a thirty-minute question and answer portion.
Spring Forum 2020
---
"Uncharted Territory: Families Navigating Remote Learning and Well-Being During the COVID-19 Crisis"
Thursday, May 14, 2020

As schools rapidly transition to online platforms in response to the COVID-19 pandemic, students and their families face unprecedented challenges. Caregivers must navigate how best to facilitate remote learning while also being mindful of children's social-emotional well-being.Dr. Miyake-Trapp explores the affordances of online learning, presents the limitations inherent to virtual environments, and equips caregivers with strategies to support children in these difficult circumstances. Issues of access and equity will also be addressed to provide critical context to the conversation.



"Negotiating for Self"
Thursday, February 13, 2020
Stephanie Blondell, Associate Director at the Pepperdine Straus Institute for Dispute Resolution, explores current negotiation theory through the lens of gender and within the cultural context as well as provide techniques to practice the skills employed by the most effective negotiators.
Fall Forum 2019
---
"Challenges Human Beings Face in a Human Doing World!"
Thursday, December 12, 2019

The December session focuses on ways to regulate our minds and reclaim our lives from the Doing, by finding meaning in the Being.
Psychotherapist, Lisa Bahar integrates Dialectical Behavior Therapy (DBT) concepts and shares how wise mind practices from different spiritual perspectives can enhance and inspire our connection to life.
---
"Razia's Ray of Hope - Called to Serve"
November 14, 2019
Afghanistan is notoriously one of the hardest places in the world to be a woman. In a culture with a deeply-rooted stigma against women's education, a bold woman is turning the tide one classroom of girls at a time. Born in Afghanistan, Ms. Razia Jan is the Founder of Razia's Ray of Hope Foundation which established an all-girls school in Afghanistan.
---
"Reducing the Risk of Alzheimer's in Women"
October 10, 2019
David A. Merrill, MD, PhD, Director of the Pacific Brain Health Center; Sarah McEwen, PhD, NSCA-CPT, Director, Research and Programming for the Pacific Brain Health Center; and Verna Porter, MD, Director of Programs for Dementia, Alzheimer's Disease and Neurocognitive Disorders at the Brain Health Center
Spring Forum 2019
---
"Changing the World - Female Social Entrepreneurs"
April 11, 2019

Susan Cotton, Co-Founder and Executive Chair of the Board of The Lily Project; Michelle Ellena, Founder and Executive Director of Compassion for Animals; and Hollie Stenson, Founder and CEO of the Worldwide Offices Of Making It Right
---
"Women Leaders - Let's Get Real"
March 14, 2019

Dr. Betty Uribe, Executive Vice President of California Bank & Trust and an international speaker, consultant, coach, and author
---
"Are You In A Healthy Relationship With Your Finances?"
February 14, 2019

Kate E. Phelan, Esq., Trust Officer with US Bank
---
Older Forums