MFT Practicum Preparation | Research Training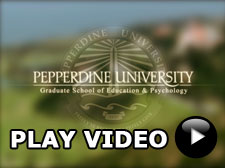 The MFT Clinical Training Department serves all students and recent graduates of GSEP's Master of Arts in Clinical Psychology with an emphasis in Marriage and Family Therapy Program. Our services include conducting clinical training information meetings for new MFT students, practicum students and recent graduates. The information meetings guide students and graduates as they prepare for the practicum experience (Psy 662) and for registration with the state board in California (Board of Behavioral Sciences) that licenses Marriage and Family Therapists (MFTs). The MFT Clinical Training Department provides MFT students and recent graduates with resources and connections in the field of Marriage and Family Therapy. This office also coordinates the practicum experience and classes needed to pass Psy 662.
The MFT Clinical Training Offices are responsible for ensuring that to the best of our abilities, Pepperdine MFT students are in keeping with State regulation. For example, Section 4980.42(b) of California Assembly Bill 1885 states that "On and after January 1, 1995, all hours of experience gained as a trainee shall be coordinated between the school and the site where the hours are being accrued. The school shall approve each site and shall have a written agreement with each site that details each party's responsibilities, including the methods by which supervision shall be provided."
More information for current students
There are four MFT Clinical Training Coordinators; one at each GSEP Graduate Campus.
Kathleen Wenger, Manager of Professional Development and Clinical Training
Irvine Graduate Campus
949.223.2580
kathleen.wenger@pepperdine.edu
Rebecca Reed, MA Clinical Training Coordinator
West Los Angeles Graduate Campus
310.568.5776
rebecca.reed@pepperdine.edu
Andrea Lipnicki
Office Manager/Program Administrator
Malibu Drescher Campus
310.506.4608
andrea.lipnicki@pepperdine.edu