Diversity Council Speaker Series
Diversity Council
The Diversity Council Speaker Series was developed by the council to provide a forum for representatives of varied backgrounds and views to speak on multicultural issues impacting the community and which affect the fields of education and mental health. The discussions are ultimately meant to provide a means for GSEP to build partnerships with the surrounding community and help students cultivate their multicultural knowledge. All students, alumni, faculty, staff, and guests are welcome to attend.
GSEP values and respects the perspectives and diversity of our students in regard to ethnicity, nationality, gender, sexual orientation, socioeconomic status, religion, age, and ability status. Thus, it is critical that discussions include respectful dialogue about any issue that impacts the lives of our students, and the individuals, families, and communities that our students serve.
Contact the Diversity Council with any questions about current or future programs.
---
The Dark Horse of the Heart: Forgiveness and Power in Life, Art, and Science
The Diversity Council welcomed Dr. Shann Ray Ferch, Ph.D., professor of Leadership Studies at Gonzaga University on Wednesday, March 28, 2012 for a presentation focusing on forgiveness in poetry, fiction, and science.
Vincent van Gogh said there is nothing more truly artistic than to love people. Yet in the last three centuries the world has experienced an increase in violence unlike any previous age. Divorce rates continue to plague the nation as interpersonal relationships in the family suffer from alienation, separation, and desolation. War and genocides displace people and nations. In life and art, a sense of illumination comes to the landscape of violence through an understanding of ultimate forgiveness. Dr. Shann Ray Ferch led the audience through a journey of strength, servant-hood, and reconciliation.
Dr. Ferch attained a BA in Organizational Communications from Seaver College and an MA in Clinical Psychology from Pepperdine University's Graduate School of Education and Psychology. In his doctoral work at the University of Alberta in Edmonton, Alberta, Canada, the focus of his research was touch, forgiveness, and reconciliation among people who have suffered a breach in beloved relationship.
Dr. Ferch's books, American Masculine and Forgiveness and Power in the Age of Atrocity will be available for sale and signing.
This is a free event hosted by the Diversity Council at the Pepperdine University Graduate School of Education and Psychology and in collaboration with the office of the Provost.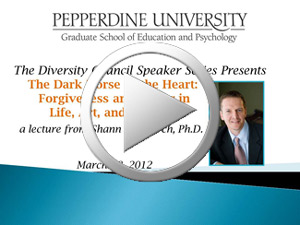 ---
Giving Voice and Dignity to the African Child


On November 3, 2011, the Diversity Council was honored to host two leaders from the Nelson Mandela Children's Hospital, Mrs. Sibongile Mkhabela, who serves as CEO; and Mrs. Nana Magomola, a hospital trustee. The two were brought to Pepperdine by distinguished alumna Ms.Jennifer Trubenbach, President and Executive Director of Operation of Hope, a non-profit that provides life-changing surgical care, healthcare and medical training programs in under-served areas of the world through international collaboration among medical and non-medical volunteers.
This was the first visit to the West coast of the United State for Mrs. Mkhabela and Mrs. Magomola. The purpose of the visit was to gain insight and clinical information in preparation for the new Nelson Mandela Children's Hospital currently under construction in Johannesburg, South Africa, scheduled to open in 2014.
Known for her personal story of the Soweto Uprising in June 1976 in her book "Open Earth and Black Roses," Mrs. Mkhabela shared her experience of losing her son to burn wounds and the void for proper child health care provisions her and her family experienced.

(from left to right, Sibongile Mkhabela; GSEP Dean, Margaret Weber; Nana Magomola)