Social Enterprise Collective - Free Event
Cross-sector Collaborations for Flourishing Communities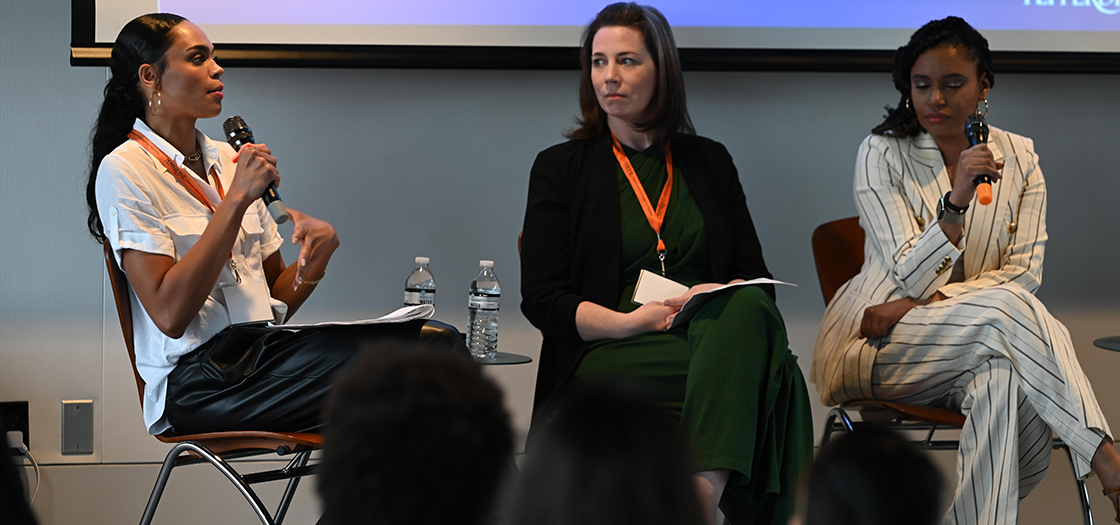 Pepperdine MA in Social Entrepreneurship and the Pepperdine School of Public Policy invites you to join us for a cross-sector social impact brunch to foster conversations around collective impact. 
Connect with fellow social impact professionals from the business, nonprofit, and government sectors. 
Share experiences and advice through panels, networking conversations, and fireside chats.
Featuring keynote speaker, Thomas Vozzo, CEO of Homeboy Industries and Author of "The Homeboy Way: A Radical Approach to Business and Life."
More special guests from sustainable brands, social entrepreneurship, and community leaders are announced weekly.
Individuals and groups are invited to join us for brunch with us. 
Space is limited. Participants are encouraged to reserve their seat as soon as possible.
Date
November 16, 2023,
10 AM –1 PM (PST)
Location
Market Center in the Fashion District
110th East 9th Street Suite A200
Los Angeles, CA 90079
Contact Us
Keynote Speaker
Thomas Vozzo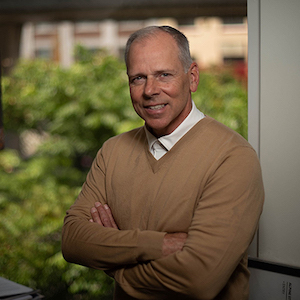 For much of his career, Thomas Vozzo was a global business executive with a proven track record, leading highly successful businesses in the service, retail, and distribution industries. He is well regarded for growing businesses and is known for strong execution skills, constantly exceeding earnings targets, even during challenging economic times. His last corporate role was as CEO of the $1.8 billion ARAMARK Uniform and Career Apparel Group. 
His definition of transformation changed dramatically with his introduction to Father Greg Boyle,  the founder of Homeboy Industries. As he began working at the non-profit organization, Vozzo himself noted, "The blind spot I had is typical for so many of us. Through no fault of our own, by  just being in the mainstream of society, we stay isolated from those most unlike ourselves and  outside our station in life." 
In 2012, Vozzo started serving as the first CEO of Homeboy Industries, the largest and most successful gang rehabilitation and re-entry program in the world. Vozzo, as a non-paid employee, has led the organization bringing his business expertise and vision to implement a  strategic and mission-driven plan, resulting in a near tripling of the size of the organization and increasing its impact. In helping Homeboy Industries thrive over the last several years, Vozzo  says he has "gained knowledge and insight about my own spirituality and the plight of the  underserved and marginalized in our society." 
In 2020 Homeboy was awarded the prestigious Conrad N. Hilton Humanitarian Prize for its humanitarian impact. Vozzo has also launched a $15 million Homeboy Ventures and Jobs Fund,  which will enable likeminded people a way to invest in businesses that produce quality jobs  which leads to real economic impact for our society 
In Vozzo's first book, The Homeboy Way: A Radical Approach to Business and Life, he gives readers practical ways to address some of our most vexing social issues and provides a new path for personal and business leadership. Vozzo shares lessons learned both in secular business as well as faith-based pursuits to help readers from all walks of life thrive. 
It is Vozzo's goal to work himself out of his current CEO role and get out of the way— to make room for the homeboys and homegirls to run Homeboy. He is confident they will lead the organization into a bright future.
Speaker
Dean Pete Peterson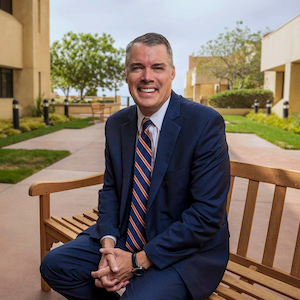 Pete Peterson is the Braun Family Dean of Pepperdine's School of Public Policy. Prior to this he was the executive director of the Davenport Institute for Public Engagement at the School where he remains a senior fellow.
Through the Institute, Peterson's work focuses on improving public policy processes at the local level and the use of technology to make municipalities more transparent and responsive. His training seminar, "Public Engagement: The Vital Leadership Skill" has been attended by over 4,000 municipal officials around the country, and focuses on the skills to facilitate public discussions on polarizing policy issues.
Peterson helped launch the Ed Meese Institute at the policy school, which convenes scholars and policymakers to discuss and write about the application of America's founding principles to today's policy challenges.
He serves on the board of the bipartisan political reform organization, California Forward, as well as the National Advisory Board for Civic Education hosted by the Ashbrook Center, and the advisory council for the Rumsfeld Graduate Fellows program. He recently joined the Scholars Council for the bipartisan dialogue organization, Braver Angels.
Speaker
Tyron Hampton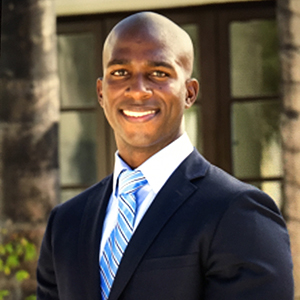 A commitment to Pasadena residents through facilitating access to city resources and departments, relationship building, and an amplified voice is what Councilmember Tyron Hampton pledged and delivers to the people of Pasadena. His promise to strengthen the First District, and in turn strengthen the City, is fueled by his personal connection to the city he has always called home.
Since first being elected to the City Council in 2015, Tyron has continuously engaged with residents of the First District through neighborhood walks, community meetings (in-person and virtual), and district events. Tyron works tirelessly to ensure that the First District is the safest district to call home in the City of Pasadena. He encourages neighbors to communicate with him and with each other because consistent communication among neighbors strengthens neighborhoods.
In addition to representing the First District on the City Council, Tyron serves on the following City Council committees, advisory boards, and commissions:
Economic Development & Technology/ED Tech Committee (Chair)
Municipal Services Committee
Public Safety Committee
Foothill Employment & Training Consortium Policy Board
Pasadena Center Operating Company/PCOC (Chair)
Burbank-Glendale-Pasadena Airport Authority
Tyron served as the City's Vice Mayor from May 2019 to December 2020. In March 2020, Tyron was elected to represent the First District on the City Council for a second term.
Winning his first election in 2013, Tyron served as a board member for the Pasadena Unified School District (PUSD). During his tenure on the school board, Tyron leveraged the skills he has acquired as a local business owner to improve communication between school board members and families as he sought and found innovative solutions to overcome budget shortfalls.
Tyron stems from a family of entrepreneurs. For more than a decade, he has run a commercial floor-covering business. Tyron is married to his high school sweetheart, Tara Gomez-Hampton, PhD. Tyron and Tara have two daughters, Peyton and Pria, and a host of nieces and nephews. Outside of work and service on the City Council, Tyron enjoys spending time with family and is an avid fitness enthusiast.
Speaker
Dave Smith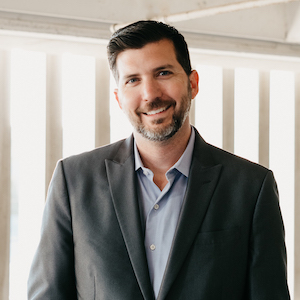 Dave Smith is the CEO of California Volunteers Fund where he builds public-private partnerships on behalf of California Volunteers, Office of the Governor.
He also serves as CEO of X Sector Labs, a consultancy that advises executives to realize greater impact through the power of courage, connection, and community.
Dave has led at the intersection of business, government, and nonprofit, and authored SSIR's special on Cross Sector Leadership.
Dave served as founding Director of Governor Newsom's #CaliforniansForAll - mobilizing hundreds of thousands of volunteers and full-time service members to meet critical needs from administering COVID vaccines to taking climate action to keeping food banks open, serving over 1 billion meals during the pandemic. He continues to serve as Senior Advisor supporting the development, launch, and implementation of #CaliforniansForAll College Corps, Climate Action Corps, Youth Jobs Corps, and Operation Feed California.
His clients have included the World Economic Forum, Accelerator for America, Points of Light, NationSwell, Partnership for Public Service, California Forward, Hilinski's Hope, and CalOZ on issues including national and community service, executive coaching, inclusive economic development, corporate citizenship, mental health innovation, and leveraging networks for impact.
Dave has advised and served on boards for Bipartisan Policy Center, Campaign for the Civic Mission of Schools, The Corps Network, Common Cause, Concord Coalition, Davenport Institute, Independent Sector, Peter G. Peterson Foundation, Points of Light, ProInspire, Reimagining Service, and the United Way of the Bay Area.
Dave is a graduate of UC Berkeley, and former chief executive of Mobilize.org, the Presidio Institute, and the National Conference on Citizenship. He now lives with his wife Maya and two children in Lafayette, California, where he was elected to serve on the Lafayette School District Governing Board.
Speaker
Jennifer Perkins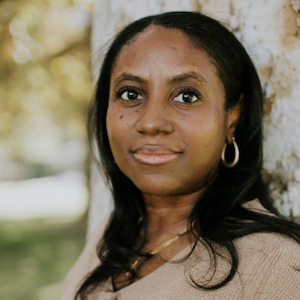 Jennifer Perkins is the Chief Equity Officer, first-ever, for the Los Angeles Department of Recreation and Parks. She serves as a member of the Executive Leadership Team, partnering with management to develop and drive equity throughout the department and its programs and services. Formerly, she served the communities of Los Angeles through the Mayor's Office for two years in the roles of Director of Neighborhood Services, overseeing eight City departments that deliver neighborhood-level programs and services, and as the Southwest Area Representative, leading and organizing community engagement events and connecting constituents to resources in South LA.
Jennifer also carries experience from the non-profit sector where she was the Community Relations Director and Outreach Director for Oasis Church LA, leading both local and global community efforts. She directed and fostered key community and government relationships, community engagement and outreach, which bridged the church in supporting formerly incarcerated, foster youth, unhoused, and underserved communities through impactful partnerships.
Jennifer is a native of Chicago and earned a Bachelor's Degree in Commerce, with a major in Marketing from DePaul University. She is a community advocate at her core who has served and advocated for disadvantaged communities throughout Los Angeles for over twelve years.
Group Discussion Facilitator
Joanna Waterfall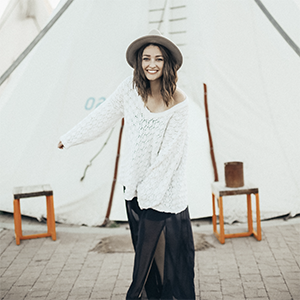 Joanna Waterfall helps audiences all over the world let go of perfectionism, embrace a spirit of play, and create their most meaningful work. As the Founder of Yellow Co., podcast host, facilitator and speaker, Joanna believes that creativity, business, community, and social impact should never be separate from each other.
She and her work have been featured in publications such as Forbes, The Huffington Post, The Good Trade, Brit+Co, The Zoe Report, Darling Magazine, and more. Her speaking has brought her to places like Mattel, Lululemon, USC, California Baptist University, and more. She's motivated by the belief that women can change the world through stepping out of fear and into who they were created to be.
Group Facilitator
Lindsey Heisser
Lindsey Heisser is the Manager of Philanthropy Programming at Snap Inc. where she oversees the company's social impact and community relations. More specifically, Heisser and her team focus on initiatives that connect students from underserved communities to equitable access to education and career pathways. Prior to joining Snap, Lindsey was the Director of the LA Tech Talent Pipeline at Bixel Exchange, the Center for Innovation and Technology at the LA Area Chamber of Commerce, helping to connect high school and community college students to high-growth, high-wage careers in technology and entertainment.
Outside of Snap, Heisser serves as an Equitas Academy board member and an active advisor and mentor to women and entrepreneurs of color. She holds a BS in Business from California State University, Long Beach.
Host
Arielle ​Estoria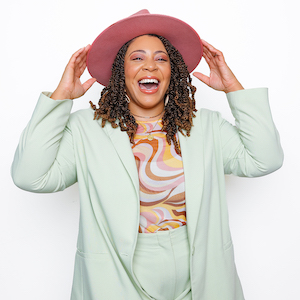 Born and raised in foggy Northern California and now residing in Los Angeles CA, Arielle ​Estoria (R-E-L EH-STORY-UH) (she/her) is a Poet, Author, and Actor. Her motto, "Words not for the ears but for the soul" stems from her dedication to remind anyone who encounters her and her work that words are meant to be felt and experienced not just heard. With a specific heart in empowering, encouraging and making space for audiences of women to feel at home in their own bodies. Arielle has shared her work through custom spoken word pieces, workshops, and themed keynote talks with companies such as Google, Sofar Sounds, Lululemon, Dressember, Tedx, the SKIMS campaign by Kim Kardashian, and more. She has consecutively emceed annual conferences and has led various writing, embodiment and self-acceptance workshops in various settings ranging from students to professional development spaces.
Arielle has also been making strides in the commercial and television worlds as a SAG-eligible Actor and has been seen in commercials for brands like Etsy, Starbucks, PayPal, TJ Maxx, and more and hopes to extend her creative reach in the acting world.
Arielle is the Co-Author of two self-published collections of poetry: Vagabonds and Zealots (2014), Write Bloody Spill Pretty (2017) which can both be found on Amazon.com and in 2016, released her EP of poetry and music titled Symphony of a Lioness. Her latest book, THE UNFOLDING, was published on March 7, 2023.