DEAN'S DISTINGUISHED LECTURE SERIES
Tuesday, February 11, 2014
Melanie Lundquist & Joan Sullivan
The Role of Philanthropy in Revitalizing L.A.'s Public Schools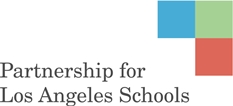 The Dean's Distinguished Lecture Series welcomed two leaders from the
Partnership for Los Angeles Schools
: Melanie Lundquist, philanthropist and board member; and Joan Sullivan, chief executive officer.
This independent, nonprofit organization manages 17 public schools, focusing on four tenets: family and community engagement, targeted student intervention, teacher effectiveness, and great school leaders.
Melanie Lundquist
Lundquist is a founding member of the Board of the Partnership for Los Angeles Schools, past chair of the Advisory Board for Teach for America, and is co-chair of a $165 million capital campaign for the California Science Center. She also lends her support to the Fulfillment Fund's endowment fund for college scholarships, and has taken active roles in Inner City Arts, United Friends of the Children, and Alliance for Children's Rights, among others.
Joan Sullivan
Sullivan oversees all aspects of the organization to ensure students receive a quality education. Prior to her post as CEO, Sullivan served as the Deputy Mayor of Education for Los Angeles. In that role, she oversaw Mayor Antonio Villaraigosa's education policy agenda, working closely with the superintendent and board president to transform the nation's second largest school district. She also oversaw the Partnership to accelerate student achievement at scale within the district's lowest performing schools.