MARGARET J. WEBER DISTINGUISHED LECTURE SERIES
Thursday, April 9, 2015
Dr. Nina Vasan
"The Placebo Effect in Social Change: Diagnosis, Treatment, and Prevention"
West Los Angeles Graduate Campus - 2nd Floor, Room 203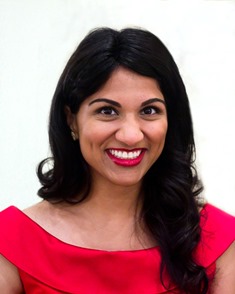 Dr. Nina Vasan is a physician at Stanford and author of the #1 Amazon Best Seller Do Good Well: Your Guide to Leadership, Action, and Social Innovation, which was praised by Nobel Peace Prize Laureate Muhammad Yunus as "the primer for social innovation."
Dr. Vasan spent nearly a decade working on the comprehensive 500+ page book that guides readers to maximize their impact in solving social problems. The impetus for writing Do Good Well came from Dr. Vasan's experience as a young social entrepreneur and activist working with the American Cancer Society; she launched a nationwide network of teenage ACS volunteers that had a few years of celebrated success, but ultimately scaled too quickly and was not sustainable. Recognizing that too often good intentions and good ideas do not translate into lasting results, Dr. Vasan and co-author Jennifer Przybylo used their background as scientists to create a method for social innovation built around three core principles: Do What Works, Work Together, and Make It List.
Since its publication in spring, Do Good Well has been adopted by college and graduate classes from Harvard to Hong Kong. The book is being used by one of the world's largest asset management companies to improve their corporate social responsibility and philanthropy initiatives.
Dr. Vasan and the Do Good Well team are now building the book into an organization that has offered mentorship, funding, and space to share best practices to young leaders; they have lectured at schools and led trainings on the Do Good Well method for foundations committed to developing startup entrepreneurs, public servants, and nonprofit leaders, furthering the Do Good Well mission to help turn idealism into impact. They are currently partnering with the Dell Social Innovation Challenge to provide content and tools to the Dell network of 25,000 student social entrepreneurs in over 100 countries.