Dean's Message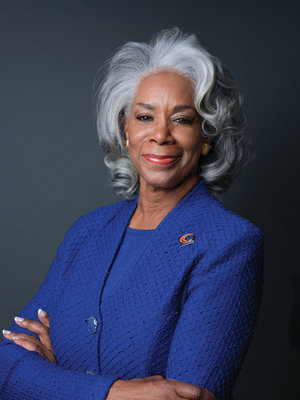 It is truly an honor and a privilege to serve as Dean of the Graduate School of Education and Psychology (GSEP) at Pepperdine University. Everyday, I witness the unwavering commitment of our faculty and staff as they uphold the highest standards of academic excellence and Christian values while preparing students for lives of purpose, service, and leadership. These are the ideals and actions that set GSEP apart from other institutions of higher education.
Careers in education and psychology are geared toward helping individuals and communities, both locally and globally, to transform into the best possible expression of themselves. GSEP strives to keep this thought in the forefront of all its initiatives. From our face-to-face and online classes, to clinical counseling practicums, internships, and student teaching, to our Distinguished Lecture Series, and numerous service projects such as the Foster Grandparents Program, the psychological wellness programs for the homeless offered in collaboration with the Union Rescue Mission, and the PRYDE Program that partners with the Orange County Sheriff Coroner Department, we are daily breaking barriers and inspiring change in every segment of our world. We are especially excited about our vibrant research and development in education and learning overseas. These involve four research grants from the National Science Foundation and a Fulbright Research Fellowship from the U.S. State Department. They permit cutting-edge work in learning sciences with partners in the U.S., Finland, Uganda, Kenya, and Namibia. In all this, our dedicated faculty and staff lead by example. Consequently, both our students and our alumni are committed to upholding these standards.
Going forward, my vision for GSEP will enhance these efforts by focusing on the following five areas: technology, counseling, accreditation, globalization, and fundraising.
Technology
K-12 teachers and administrators should be as technologically savvy as the children they will be teaching and leading. Psychologists should understand how to use the latest technology to improve their service to clients. Therefore, our GSEP students must have a strong working knowledge of technology. With that in mind, our classrooms and meeting rooms require a technological upgrade, and we must develop instructional strategies for integrating these into the curriculum.
Counseling
Our world is bombarded daily with catastrophes caused by natural disasters, human errors, and our own inhumanity. Psychologists help us make sense of our world, enabling us to survive and to thrive. GSEP is poised to impact more lives by improving our counseling clinics and expanding the services offered.
Accreditation
We must maintain the highest academic standards and ensure pride in a Pepperdine degree. For the psychology division, this means maintaining our APA accreditation. For the education division, it means adding national accreditation by the Council for Accreditation of Educator Preparation to our California Commission on Teacher Credentialing accreditation.
Globalization
The barriers between the nations of our world are no longer inaccessible. International collaborations and travel between countries are ordinary and frequent experiences. Assisting our students in developing a multicultural mindset exemplified by an appreciation for and celebration of cultural differences will empower them to thrive in this environment. Pepperdine University has campuses in England, Switzerland, Germany, Italy, and Argentina. Increasing GSEP's presence at these locations could represent an added value to those living and studying abroad.
Fundraising
The technology, counseling, accreditation, and globalization themes cannot be effectively actualized without strategic and productive friend-raising and fundraising efforts. Our faculty, staff, students, alumni, and friends must work alongside the administration to ensure that GSEP can continue to serve students and the community for many years to come. We must all be willing to authentically and effectively share the GSEP story with those who have a heart for what we do at Pepperdine University.
GSEP has a rich and vibrant history that dates back to 1971 when our Founding Dean, Dr. Olaf Tegner, established the School of Education at the original University campus on Vermont Street in South Central Los Angeles. George Pepperdine, our Founding Father, often referred to Matthew 10:8: "Freely ye received, now freely give." I have great respect for these gentlemen and for the work done at GSEP by the leadership, faculty, and staff who came before me. I look forward to working alongside those who are here today utilizing the strengths and challenges of the past and the present as a springboard for the future.
It is my earnest desire that together we will maximize our opportunities. Together, we will dig deeper to reach higher than ever before.
Helen Easterling Williams, EdD
Dean, Graduate School of Education and Psychology