Faculty Spotlight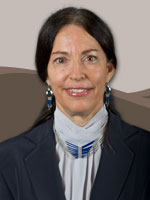 "Technology is shared minds made visible."
Dr. Margaret Riel, a visiting faculty member teaching in the online master's in Educational Technology program, believes in the collaborative nature of learning and the ability of technology to facilitate collaborations. According to Riel, "Technology is shared minds made visible." She continued, "There's no learning that isn't collaborative. Even reading a book is a dialogue, a collective conversation with the authors of the text."
The United States Distance Learning Association (USDLA) has recognized Riel's work in this area with a gold level award for online technology in higher education. The USDLA Awards were created to acknowledge major accomplishments in distance learning and to highlight those distance learning instructors, programs, and professionals who have achieved and demonstrated extraordinary results.