Faculty Positions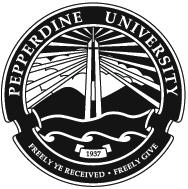 Pepperdine University announces the openings for these positions in the Graduate School of Education and Psychology (GSEP).
Education Division
The Education Division provides innovative academic programs dedicated to building scholar-practitioners through academically rigorous student-centered learning. We shape individuals who will be catalysts for inspiration and change. The Division offers six Masters and four Doctoral programs to match well defined career tracks.
Our students represent the diverse mosaic of Southern California, with over forty percent of our student body from ethnic minority populations. Pepperdine places a high priority on sustaining a multi-culturally competent faculty and encourages applications from candidates who will enrich and contribute to diversity at Pepperdine. The faculty positions will involve primary assignment to a Pepperdine graduate campus in west Los Angeles, Irvine, or Encino, California.
Pepperdine is a Christian University committed to the highest standards of academic excellence and Christian values, where students are strengthened for lives of purpose, service and leadership. Consistently ranked as one of the most beautiful places to study, Pepperdine has five campuses in Southern California and facilities in London, England; Buenos Aires, Argentina; Florence, Italy; Heidelberg, Germany; Shanghai, China; Lausanne, Switzerland.
Application Requirements for Education Full-time Faculty Positions :
Applications should include:
A letter that indicates teaching, philosophy and related research interests;
A statement regarding the applicant's active and current participation in a community of faith.
A curriculum vitae that includes the names of three references; and
Reprints of selected publications.
Candidates who are currently completing their doctoral degrees or lack a track record of scholarship are discouraged from applying for these positions.
Applications will be accepted until the positions have been filled. All materials must be submitted to EdFacultyPositions@pepperdine.edu , Assistant to the Associate Dean of Education.
Pepperdine is an Equal Employment Opportunity Employer and does not unlawfully discriminate on the basis of any status or condition protected by applicable federal. state, or local law.
Pepperdine is religiously affiliated with the Churches of Christ. It is the purpose of Pepperdine to pursue the very highest employment and academic standards within a context which celebrates and extends the spiritual and ethical ideals of the Christian faith. While students, faculty, staff and members of the Board of Regents represent many religious backgrounds, Pepperdine reserves the right to seek, hire and promote persons who support the goals and mission of the institution, including the right to prefer co-religionists.
Psychology Division
The Psychology division of the Graduate School of Education and Psychology announces an opening for a tenure-track faculty position at the rank of Assistant Professor.