Do Not Be Weary In Well Doing
As we pause to take stock in the events of the past 12 months, it is easy to bemoan our circumstances. It is easy to become overwhelmed with sadness, sorrow, grief, anxiety, and fear and fall into a state of depression. It is easy to become cloaked in a spirit of defeat as we consider this seemingly unrelenting battle with an insidious, invisible virus that ravages the bodies of our loved ones and leaves us to mourn their breathless bodies, oftentimes without even an opportunity to bring closure to our relationships with a final kiss, embrace, or other last expression of love and appreciation. It is easy to become sick and tired of seeing the gnarling beast of racism rise up in all of its ugliness and unashamedly beat its chest to the cacophony of ludicrous, self-proclaimed superiority while, in the same breath, it spews out degradation, marginalization, and hatred for others who represent difference.
Nevertheless, we must prevail in the fruit of the Spirit of God: love, joy, peace, patience, kindness, goodness, faithfulness, gentleness, and self-control (Galatians 5). Doing so will enable us to reap the countless blessings of the Lord. The Bible tells us how Joseph prevailed through the pit and the prison. He ended up in the palace. David prevailed through javelins being thrown at him and living in caves. He became the most celebrated Israelite king. Esther prevailed through being an orphan, a forced bride for the king, and a courageous exposer of sabotaging efforts in the king's court. She became a savior of her culture and the youngest queen of the Persian Empire.
While we may not become the top leaders of our organizations, if we prevail through Christ Jesus, we will overcome the vicissitudes of life. Instead of responding to death and racism with more of the same, we will prevail with strength, power, and love. This is all summed up in two Bible scriptures that I share with you here. And let us not be weary in well doing: for in due season we shall reap, if you faint not (Galatians 6:9 KJV), ...because greater is He that is within you, than he that is in the world (1 John 4:4 KJV).
---

About the Author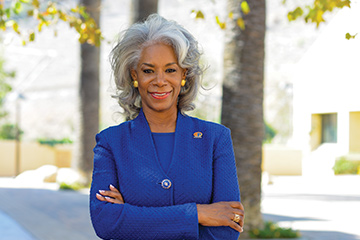 Dr. Helen Easterling Williams, Dean of GSEP and professor of Education.