The Race and Cultural Experiences (RACE) Research Lab
The Race and Cultural Experiences (RACE) Research Lab studies predictors of mental health use among diverse communities. More recently, projects have explored the role of social, cultural, and contextual factors on mental health. Current research goals are to: (1) elucidate correlates and predictors of child mental health services utilization among diverse populations, (2) identify mechanisms of help-seeking and (3) develop interventions to improve mental health literacy and adherence to treatment.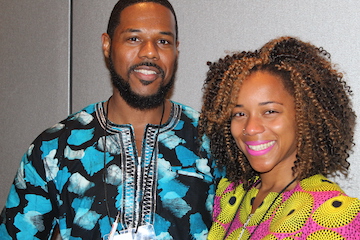 The RACE Lab's work have been published in peer-reviewed journals and featured in news stories. Additionally, our research has been presented nationally at conferences such as the American Psychological Association, Association of Black Psychologists, Anxiety and Depressions Association of America, International Convention of Psychological Science, and Association for Behavioral and Cognitive Therapies. Connect with the RACE Lab on Twitter @Turner_RACE_Lab.
Director: Dr. Erlanger A. Turner, Ph.D.
Books and Book Chapters (*student co-authors):
Turner, E.A. (under-contract). Parenting guide for helping Black children cope with racial stress: CBT skills to overcome worry, anger and injustice. New Harbinger Press.
Turner, E.A., Jernigan-Noesi, M., & Metzger, I. (2021). Confronting anti-Black racism and promoting social justice: Applications through social media. In K. Cokley (Ed.). Making Black Lives Matter: Confronting anti-Black racism. Cognella.
Turner, E.A., & Turner, T.C. (2021). The state of Black mental health: Understanding disparities through the lens of Critical Race Psychology. In J. Chism, S. DeFreitas, V. Robertson, & D. Ryden (Eds.). Critical race studies across disciplines: Resisting racism through scholactivism. Lexington Books.
Turner, E.A., Malone, C., & *Douglas, C. (2019). Barriers to mental health treatment for African Americans: Applying a model of treatment initiation to reduce disparities. In M. Williams, D. Rosen, & J.Kanter (Eds.), Eliminating race-based mental health disparities: Promoting equity and culturally responsive care across settings. New Harbinger Press.
Turner, E.A. (2019). Mental health among African Americans: Innovations in research and practice. Rowman & Littlefield Publishing.
Turner, E.A. & Mills, C. (2016). Culturally relevant diagnosis and assessment of mental illness. In A., Breland-Noble, C., Al-Mateen, & N., Singh (Eds.), Handbook of mental health in African American youth, (pp. 21-35). Springer International Publishing.
Selected Peer-Reviewed Articles (*student co-authors):
Ofonedu, M., Turner, E.A., Franklin, A., & Breland-Noble, A. (in-press). Promoting positive mental health outcomes for Black youth of African descent: Applying the Family as Host Model for culturally responsive practice. Evidence-based Practice in Child and Adolescent Mental Health. https://doi.org/10.1080/23794925.2023.2169969
Turner, E.A., Harrell, S.P., & Bryant-Davis, T. (2022). Black Love, Activism, and Community (BLAC): The BLAC model of healing and resilience. Journal of Black Psychology, (48)3-4, 547-568.
Grassetti, S.N., Tennity, C.L., Charles, N.A., Turner, E.A., & Barry, C.T. (2022). Parenting practices and callous unemotional traits predict behavioral infractions at military-style youth challenge academies. Current Psychology, https://doi.org/10.1007/s12144-022-03840-2
Malone, C. M., Wycoff, K., & Turner, E. A. (2022). Applying a MTSS framework to address racism and promote mental health for racial/ethnic minoritized youth. Psychology in the Schools, 59(12), 2438-2452.
Turner, E.A., *Plitt, C.,*Gamez, Y, & *Godfrey, C. (2021). Therapy fears and help-seeking behaviors among mothers: Examining racial differences in mental health services. Community Mental Health Journal, 57, 808-813.
Turner, E.A. (2018). Factor structure and psychometric properties of the Thoughts About Psychotherapy Survey in a parent sample. Community Mental Health Journal, 54(7), 930-934.
Turner, E.A., *Camarillo, J., *Daniel, S., *Otero, J., & *Parker, A. (2017) Correlates of psychotherapy use among ethnically diverse college students. Journal of College Student Development, 58(2), 300-307.
Turner, E. A., Jensen-Doss, A., & Heffer, R. W. (2015). Ethnicity as a moderator of how parents' attitudes and perceived stigma influence intentions to seek child mental health services. Cultural Diversity and Ethnic Minority Psychology, (21)4, 613-618.
Turner, E.A. (2012). The Parental Attitudes Toward Psychological Services Inventory: Adaptation and development of an attitude scale. Community Mental Health Journal, (48)4, 436-449.