Professor Samaa Haniya Featured at Los Angeles AI Symposium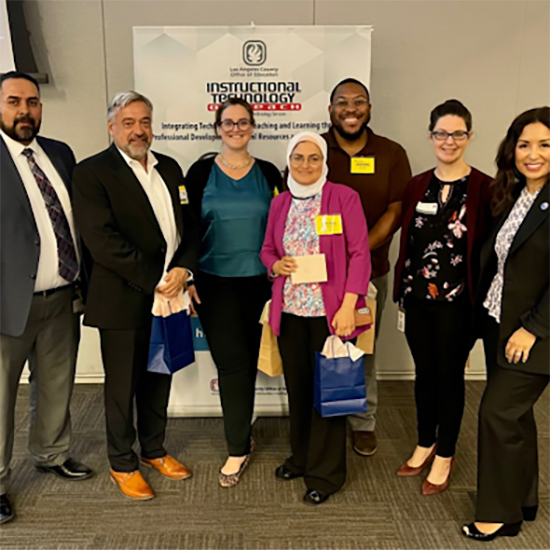 Pepperdine GSEP assistant professor of education Samaa Haniya was a guest panelist at the AI Symposium held on August 4 in Los Angeles. Hosted by the Los Angeles County Office of Education, the symposium was initiated to discuss the rapidly evolving role of artificial intelligence in education and its potential impact on society. Speakers aimed to equip attendees from Los Angeles County school districts with the knowledge and tools needed to harness AI's potential while ensuring data privacy and ethical integrity.
A diverse group of educational leaders, ranging from school principals and dedicated teachers to tech innovators from Google and Microsoft presented at the symposium. This unique group provided collective insights for shaping the future of education through AI, sharing innovative concepts, AI tools and applications, and practical strategies to empower educators in employing AI in their classrooms.
At the symposium, Haniya discussed her new project, "Demystifying AI for Educators in Underserved Areas," which she is pursuing in collaboration with Reyna García Ramos, GSEP professor of education and chair of the Department of Education and Pedagogy. Haniya shared, "AI is here to stay . . . AI is not about replacing teachers or our intelligence, but rather about augmenting our intelligence, and making teaching and learning more efficient, effective, and productive while reaching all individuals, especially members of marginalized communities. We just need to experiment with it and to continuously learn and relearn."