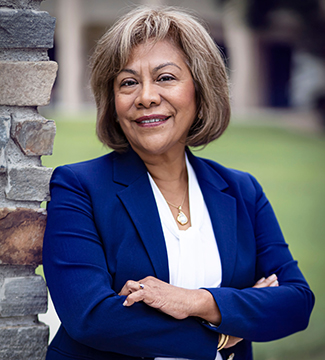 Reyna García Ramos
Professor of Education
Chair of the Department of Education and Pedagogy
Education Division
, Graduate School of Education and Psychology
WLA
Biography
Dr. García Ramos is a professor of education and director of the Teacher Preparation Program (TPP) at Pepperdine University. She lends leadership to the undergraduate and graduate preservice teacher pathways and directs the MAT program at GSEP. Dr. García Ramos teaches in the MAT and doctoral programs and is the faculty liaison for CABE Pepperdine, the California Association for Bilingual Education (CABE) university chapter.
Her research addresses the widening academic gap of English learners in California's public school system. She successfully established university-school partnerships that allow preservice teachers to have learning experiences with English learners in local schools.
Dr. García Ramos worked in bilingual classrooms in the Los Angeles Unified School District and Goleta Unified School District. Before coming to Pepperdine University, Dr. García Ramos was a community educator and organizer. She designed culturally relevant curricula and supervised delivering ESL, literacy, and civics instruction to Spanish-speaking immigrants. Dr. García Ramos was the Director of Legislative Affairs for CABE from 2006 to 2008 and the secretary of the Bilingual Education Research SIG12 of the American Educational Research Association from 2007-2009 and again from 2016-2018. She is currently the Region III Representative for CABE and secretary of CABTE, an affiliate chapter of CABE.
Education
PhD, University of California, Santa Barbara
BA, University of California, Los Angeles
Morales-Thomas, M. and García Ramos, R. (2023). Creating Parent Engagement Practices Through Parent Focus Group Sessions. Multilingual Educator, 81–83.
García Ramos, R. (2021). Teaching Latino Adolescent Males: Reflections from an Educator and Mother. Multilingual Educator, 89-91.
Garcia Ramos, R. (2008). Teaching language arts through an inquiry approach. In A. Nava (Ed.), Connecting English language learners to cross-cultural methodology: English language development standards (pp. 105-120). Wiley: Hoboken, NJ.
Garcia Ramos, R. (2007). Developing an understanding of families and the community. In D. B. Hiatt-Michael (Ed.), Promising practices for teachers to engage families of English language learners (pp.33-41). Information Age Publishing, Inc.: Charlotte, NC.
Dome, N., Prado-Olmos, P., Ulanoff, S., García Ramos, R., Vega-Castaneda, L., Quiocho, A. (2005). "I don't like not knowing how the world works": Examining preservice teachers' narrative reflections. Teacher Education Quarterly, 32 (2), 63-83.
CCTE Distinguished Teacher Educator, 2012
Pomona Goddess Award for Community Service, 2007
Howard A. White Award for Teaching Excellence, 2007
Women of the Year Unsung Heroine Award, 2004
Courses
MATP 610: Instructional Design for Teaching
MATP 630: Teaching English Learners
MATP 681: Clinical Experience 1
MATP 682: Clinical Experience 2
EDD 755: Virtual Learning and Collaboration
EDD 767: Qualitative Research Design and Analysis
EGLC 754B: International Policy Experience