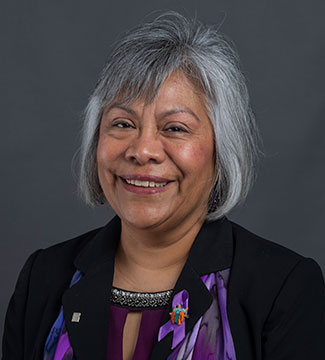 Reyna García Ramos
Professor of Education
Chair of the Department of Education and Pedagogy
Education Division
, Graduate School of Education and Psychology
WLA
Biography
Dr. García Ramos teaches in the MAT and doctoral programs at GSEP and leads the university chapter of the California Association for Bilingual Education (CABE). Her focus is on addressing the widening academic gap of English learners in California's public school system, in part by establishing university-school partnerships that allow future teachers extensive learning experiences with English learner youth in communities.
Dr. García Ramos worked in bilingual classrooms in the Los Angeles Unified School District and Goleta Unified School District. As a community educator/organizer, she helped design culturally relevant curricula for Spanish-speaking immigrants and supervised instructors to deliver ESL, literacy, and civics instruction. She was Director of Legislative Affairs for CABE and Secretary for two Special Interest Groups in the American Educational Research Association.
Areas of Research Interest
Teacher Preparation, Teaching and Learning, Language Development, Multicultural and Multilingual Students.
Education
PhD, University of California, Santa Barbara
BA, University of California, Los Angeles
CCTE Distinguished Teacher Educator, 2012
Pomona Goddess Award for Community Service, 2007
Howard A. White Award for Teaching Excellence, 2007
Women of the Year Unsung Heroine Award, 2004