GSEP Celebrates National Hispanic Heritage Month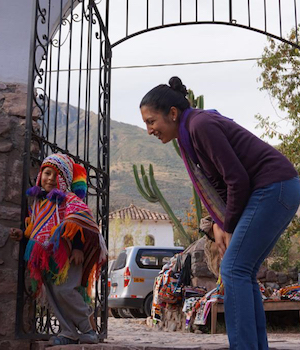 Each year from September 15 - October 15, the nation honors Hispanic Heritage Month to celebrate the history and culture of the U.S. Latinx and Hispanic communities. The month-long celebration commemorates how Hispanic communities have influenced and contributed to American society. The timing of Hispanic Heritage Month coincides with several Latin American nations celebrating their Independence Day. September 15th is Independence Day for Costa Rica, El Salvador, Guatemala, Honduras, and Nicaragua, and September 16th is Mexico's Independence Day.
As we celebrate Hispanic Heritage Month this year, we want to spotlight our Aliento program and CABE chapter.
Latinx communities are the fastest growing and largest ethnoculturally diverse groups in the United States. As such, Pepperdine University created Aliento 10 years ago to give voice to the strengths and values of Latinx communities. We believe that the empowerment of individuals begins with the inclusion of community members in the development of education, training, and research philosophies. In addition to the emphasis on Latinx training and research within the Clinical Psychology program, Aliento is committed to outreach and education programs in the broader community.
Aliento, The Center for Latinx Communities is dedicated to addressing the individual and communal mental health needs of Latinx communities. Aliento, the Spanish word signifying "breath," conveys the essence of the center. The Center's overall purpose is to "dar aliento" (give support, encouragement, life) to community members. The mission of Aliento is to encourage community participation as an integrated component to its sustainability, relevance and to make it accessible to Latinx communities.
This program prepares students to integrate a community-based, systemic perspective, with Latinx communities that prepares students to integrate strength-based and liberatory approaches in their conceptualization and therapeutic approaches when working with underserved Latinx communities. This program is administered through Aliento, The Center for Latinx Communities, at the Irvine Graduate Campus.
Program Director: Dr. Gallardo is a Professor of Psychology and a licensed psychologist. He teaches courses on multicultural and social justice, advocacy, the DSM, and professional practice issues. Dr. Gallardo maintains an independent/consultation practice where he conducts therapy, forensic/legal psychological, and neuropsychological screening assessments, and consults with organizations and universities on developing culturally responsive systems.
Dr. Gallardo's areas of scholarship and research interests include understanding the psychotherapy process when working with ethnocultural communities, particularly Latinx communities and in understanding the processes by which individuals develop cultural awareness and humility. Dr. Gallardo has published refereed journal articles, books, and book chapters in the areas of multicultural psychology, Latinx psychology, ethics and evidence-based practices, cultural humility, and racial colorblindness. He is currently a Series Editor for Cognella Academic Press' Advances in Culture, Race, and Ethnicity book series. Dr. Gallardo also regularly discusses issues relevant to understanding how we can develop stronger relationships with one another on his Cultural Humility podcast.
Dr. Gallardo is currently Director of Research and Evaluation for the Multiethnic Collaborative of Community Agencies (MECCA), a non-profit organization dedicated to serving monolingual Arab, Farsi, Korean, Vietnamese, Cambodian, and Spanish speaking communities. Dr. Gallardo served as a 6-year Governor appointed licensed member of the California Board of Psychology. Dr. Gallardo is the founding president of the California Latino Psychological Association, a past president of the California Psychological Association, and a past chair of the Committee on Ethnic Minority Affairs of the American Psychological Association. Dr. Gallardo is currently serving a 5-year appointment on the Clergy Misconduct Oversight Board for the Roman Catholic Archdiocese of Los Angeles. Dr. Gallardo is a Fellow of the American Psychological Association.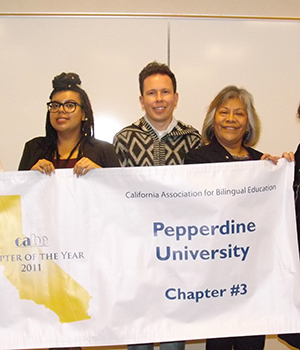 The California Association for Bilingual Education (CABE) is a non-profit organization incorporated in 1976 to promote bilingual education and quality educational experiences for all students in California. CABE has 5,000 members with over 60 chapters/affiliates, all working to promote equity and student achievement for students with diverse cultural, racial, and linguistic backgrounds. CABE recognizes and honors the fact that we live in a rich multicultural, global society and that respect for diversity makes us a stronger state and nation. Comprising students, alumni, staff, and faculty from the Pepperdine Graduate School of Education and Psychology (GSEP)—the only university to establish a chapter with CABE—the group strives to highlight multiculturalism and educational equity for the communities across Los Angeles County and beyond through events such as conferences, professional development workshops, and networking opportunities.
Faculty Advisor: Reyna García Ramos, PhD is a professor of education and Director of the Teaching Education program at the Pepperdine University Graduate School of Education and Psychology. She is the daughter of Mexicano immigrant parents and the first in her family to attend college and obtain an advanced degree. Dr. García Ramos has been a phenomenal advocate for bilingual education in her role as advisor to the student group chapter of the California Association for Bilingual Education. Previously, García Ramos was director of legislative affairs for CABE from 2006 to 2008. CABE presented her with a special award in honor of her service, which has included raising funds for teachers and presenting at the Association of Mexican American Educators annual conference. García Ramos has worked in bilingual classrooms throughout the Los Angeles Unified School District, and designed culturally relevant curricula for Spanish-speaking immigrants living in California. García Ramos was secretary of the Bilingual Education Research Committee of the American Educational Research Association and has utilized her bilingual skills as an expert witness for the California Superior Court.
Dr. García Ramos explains that her efforts are driven by personal experience: "Bilingual education made a difference in my life, and it continues to make a difference in the lives of our English learners today."
GSEP is committed to raising awareness and preparing our students, counselors, therapists, educators, psychologists who can promote the mission of our university - to lives of purpose, service, and leadership.