Cross-Cultural Psychology: Critical Thinking and Contemporary Applications Continues to Inspire and Educate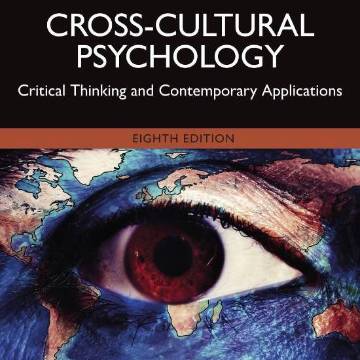 In an era marked by increasing globalization, polarization, and cultural diversity, the importance of understanding cross-cultural psychology cannot be overstated. For over two decades, Pepperdine GSEP Professor of Psychology, Dr. David A. Levy and co-author Dr. Eric Shiraev have been at the forefront of this field, guiding students and researchers through the intricate world of cultural dynamics. Today, we celebrate the announcement of the 8th edition of their groundbreaking textbook, Cross-Cultural Psychology: Critical Thinking and Contemporary Applications.
Since its inception 23 years ago, this textbook has held the prestigious position of being the #1 international best-seller in its category. Not only has it been a beacon of knowledge for students worldwide, but it has also transcended language barriers, having been translated into seven foreign languages: Chinese, Indonesian, Czech, Arabic, Greek, Bulgarian, and Macedonian.
The forthcoming 8th edition promises to be an even more vital resource in the field of cross-cultural psychology. It will tackle an array of current and pressing topics, such as social justice, LGBTQ+ rights, critical race theory, disenfranchisement, green values, global warming, digital culture, and the war in Ukraine. With each chapter, Dr. Levy and Dr.. Shiraev shed light on how these issues intersect with cross-cultural psychology, providing readers with critical insights and perspectives.
The 8th edition of Cross-Cultural Psychology: Critical Thinking and Contemporary Applications is set for global distribution in early 2024, and it couldn't come at a more opportune time. As societies around the world grapple with the challenges and opportunities of multiculturalism, this textbook equips readers with the knowledge and tools needed to navigate this complex landscape.
Editorial Acclaim
Esteemed academics and scholars have showered praise on Dr. Levy and Mr. Shiraev's work:
"Shiraev and Levy provide a scholarly analysis of cross-cultural psychology that is informative, intriguing, and enjoyable to read. Their descriptions of contemporary applications convey critically important insights for addressing intergroup conflicts and disparities." – Cheryl Koopman, Stanford University
"Given the increasingly multicultural nature of modern societies, this insightful and mature excursion into the dynamics of cross-cultural psychology could not come at a more propitious time. This is important reading and highly recommended."– Jim Sidanius, Harvard University
"The new edition of this classic textbook is a must-read for those in the fields of psychology and related social and behavioral sciences. It is an engaging and informative resource for anyone interested in learning how the intricate web of cultural customs, values, and norms permeate our lives and shapes us into who we are." – Denis Sukhodolsky, Yale University
"I had the privilege to use this text in teaching both undergraduate and graduate courses. This text aims to spark the students' motivation to learn about cultural contextual variables affecting human behavior, cognitions, and emotions. It offers a critical thinking paradigm and specific exercises, which are priceless in this field and could be applied in other subfields of psychology." – Sergei Tsytsarev, Hofstra University
In an increasingly interconnected world, Cross-Cultural Psychology: Critical Thinking and Contemporary Applications serves as a beacon of knowledge and understanding, bridging gaps and fostering cross-cultural competence. As we eagerly await the release of the 8th edition, we extend our heartfelt congratulations to Dr. David A. Levy and Dr. Eric Shiraev for their continued dedication to advancing the field of cross-cultural psychology. Their work continues to inspire, educate, and shape the minds of future generations.