MFT Consortium of Orange county
Consortium of MFT Schools in California

The MFT Consortium of California is a statewide network of regional MFT Consortia across the state. Each regional MFT Consortium brings together the MFT schools in its region to address the quality of education and practicum training of its MFT students. The Consortium also addresses issues and concerns related to the MFT profession with respect to core competencies, legislative changes and the promotion of public mental health practice. Here are the host schools of each regional consortium. The names of the leaders and regional coordinators of each consortium are also provided.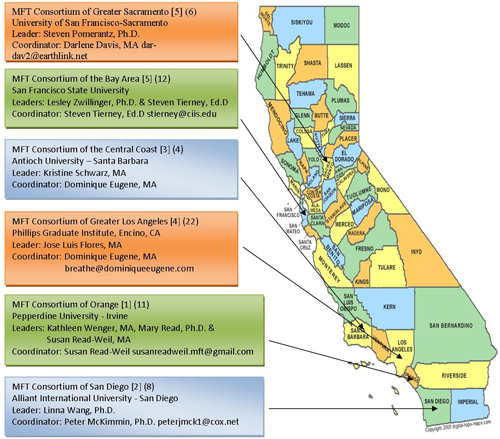 MFT Leadership Collaborative
The leaders of the regional MFT Consortia and the executive directors of CAMFT and AAMFT-CA have formed the MFT Leadership Collaborative. The Collaborative provides guidance to the regional Consortia and have partnered with Phillips Graduate Institute to deliver statewide educational stipends to MFT students by the California Department of Mental Health with Mental Health Services Act funds.
Links to other Regional MFT Consortia
Email contacts for each of the regional consortia are available on the above map. You can also visit the web sites for three of the consortia in addition to Orange County: Los Angeles, San Diego, and Central Coast.