MS Suite Capstone Projects
The Capstone Presentations is a culminating event for the Master of Science in Leadership programs. In collaboration with program faculty, students will engage in a culminating undertaking in the form of a scholarly paper, a learning/training program, or a technology-infused product design in which students apply academic, theoretical, and/or practitioner perspectives explored throughout the coursework. All projects must be grounded in literature relevant to students' degree programs and presented using advanced transmedia. The Capstone Integration Experience serves as one of the final program learning outcomes assessments.
Capstone Projects
Adrian Rios
MS in Organizational Leadership and Learning
Capstone - Attracting and Retaining Talent in a Post-Pandemic Work Environment.
Adrian Rios is a husband to Olivia Rio, a father to Leah Rio (8 years old), and Evan Rios (6 years old). He is a first-generation college student that received his bachelor's degree in Psychology from CSULA. After graduating, he worked in the insurance industry within the claim department of several different organizations. Over the past nine years, he has held a leadership role at Travelers Insurance Company. As a leader, he values being caring, inclusive, flexible, agile, and a growth mindset. At his core, he is a lifelong learner and is motivated by becoming a better leader for those that work with him. His wife and children inspired and supported him throughout his pursuit of a master's degree in Organizational Leadership and Learning. He hopes that this milestone will set a good example for his children and inspire them to pursue their dreams.
---
Amy Allegre
MS in Leadership in Higher Education
Capstone - Mind, Body, and Sport: A Training Course in Student-Athlete Mental Health
Amy is currently a Graduate Assistant for Pepperdine's Sports Performance Department. A former Bay Area resident, working in corporate fitness, she uprooted to Los Angeles to pursue an unpaid internship here at Pepperdine University and she's never looked back! With little experience, but exceptional passion, Amy thrived in her internship role, which led to a volunteer position and eventually a graduate assistant position. Amy is focused on creating an environment where her student-athletes can not only make daily performance improvements on themselves and their teams, but also be inspired to become empathetic, strong-willed, and sincere individuals. She is passionate about helping those around her get to places they wouldn't have been able to get to on their own. She sees the potential in everyone she works with and will stop at nothing to bring out the best in those that surround her.
---
Anna Chernyavskaya
MS in Organizational Leadership and Learning
Capstone - Leadership Style-Based Approaches to Amplifying Entry-Level Employee Voices
Anna Chernyavskaya is a Life and Business Coach and has been greatly successful in her entrepreneurship journey by opening up her coaching business, MotivAnna. Anna's prominent role as a business coach is working with leadership within the Finance, Entertainment, and Healthcare industries. Anna has a passion for connecting with people and helping them find a balance between work and personal life. She loves seeing others accomplish their goals and change their lives and perspectives for the better. Before creating her business, Anna worked in Business Operations at one of LA's best hospitals. Although this job taught her many things, Anna decided to embark on a different route as she realized how important it was to make a difference in someone's life through the power of voice. Anna is excited to earn her Master's in Organizational Leadership and Learning, as this will open many new chapters in her life and business.
---
Breeanna Maldonado
MS in Leadership in Higher Education
Capstone - Moving Beyond the Stigma: Education Program for Families of Children with Exceptionalities
Breeanna Lynn Maldonado possesses a Bachelor of Arts in Psychology from California State University Northridge in Northridge, CA. Her passion is creating a pathway for disadvantaged children to enter higher education. She has created partnerships with non-­profit organizations that help formerly incarcerated youth enter higher education. Breeanna lives with her 4-year-old son, and they enjoy exploring Los Angeles.
---
Caitlin Fuller
MS in Leadership in Pre-K to 12 Education
Capstone - Teacher-Led Schools: Implementing a Hybrid Leadership Model at ECHS-G
Caitlin Fuller is the Founding Art Teacher and 9th Grade Level Lead at a charter school in the South Bay region of Los Angeles, California. Caitlin has worked in education for a decade, serving in teacher and leadership roles at public, private, and charter schools. She was an Arts Education Fellow with Arts for LA, working to connect her students with a local arts festival to showcase their work. Caitlin believes in student-centered learning that empowers teachers to highlight individual student voices in and outside the classroom. Caitlin hopes to cultivate a school community that embraces and promotes leadership at all levels and educational partners.
---
Christina Flores
MS in Organizational Leadership and Learning
Capstone - Strategies for Attracting, Retaining, Developing, and Inspiring a Modern Workforce
Christina has worked in the Financial Services space for 20 years, leading human capital strategies for Fortune 500 and not-for-profit organizations. As an accomplished Human Resource executive, she is committed to helping people and organizations realize their full potential by creating meaningful workplaces for all. Christina attended Harvard Business School - Executive Program and graduates with her Master of Science in Organizational Leadership and Learning from Pepperdine University in the Spring of 2022. When not immersed in her passion for learning, she enjoys glamping and exploring nature with her family, plus cat Kia.
---
Corrinne Williams
MS in Organizational Leadership and Learning
Capstone - Emotional Intelligence: A Leader's Guide
Corrinne Williams comes with 15 years of experience specific to Learning and Talent Development. Coninne currently holds the Corporate Trainer position for TikTok's Trust and Safety Department. She is responsible for the full creation and development of the department's interpersonal skills and leadership development courses for all teammates. Corrinne earned a Bachelor of Arts degree in Social Science from Washington State University and is currently completing an MS in Organizational Leadership and Learning at Pepperdine University. Corrinne's passion lies in soft skills training, coaching, and professional development; she has a strong foundational understanding of how these skills can positively impact organizations, teams, and individuals to achieve workplace cohesion and accomplish business goals. Corrinne has aspirations to launch a consultant firm tailored to emotional intelligence tool training, leadership, and executive coaching for professionals.
---
Courtney Granados
MS in Leadership in Higher Education
Capstone - Analyzing LGBTQ+ Spaces in Faith­-Based Higher Education Institutions
Courtney Marie Granados is a Student Accounts Coordinator at Pepperdine's Graduate School of Education and Psychology. She graduated from the University of California, Santa Barbara in 2017 with a major in Sociology and a minor in Applied Psychology. It was during her time as an undergraduate that she became passionate about social justice and higher education. Her overall goal is to help students achieve their definition of success. She aspires to be a Director of Student Services so that she can help universities provide programs and resources for marginalized students, so they have equitable access to what they need to be successful in their academic and professional development. She would like to serve as a resource to students so that they can attain their degrees and become powerful voices within their communities. In her free time, she enjoys reading, playing softball, and spending time with her dog, Coco.
---
Daniel Vass-Goosby
MS in Organizational Leadership and Learning
Capstone - Mindfulness: Enhancing Diversity Change Readiness
Daniel Vass-Goosby is an experienced coach, videographer, and entrepreneur. Driven by a desire to positively affect personal beliefs and organizational norms through training and media, he takes immense pride in the psychological relationship between fulfillment and accomplishment. In addition to his chief interests, Daniel intends on focusing his research in personal and organizational development, so as to aid in the effort to alter the status quo, in favor of more humanistic approaches to organization. Daniel hopes to continue his education at the doctoral level, in order to gain further perspectives concerning techniques, such as mindfulness, that aid in navigating uncertainty.
---
Denisse Carmargo
MS in Leadership in Pre-K to 12 Education
Capstone - Building Trauma-Sensitive Schools: Practices for Early Childhood Educators through a Trauma­-Informed Lens
Denisse Camargo is an Early Education Quality Improvement Support Coach with the San Diego County Office of Education, where she provides coaching and professional development to early education program leaders and teachers in support of quality improvement. In her nearly 17 years of experience in early education, Denisse has found a passion for working with children, families, and educators. She is passionate about fostering high-quality early education learning environments for young children and is committed to positively impacting the early education field through systems of support. Denisse considers herself a lifelong learner and continuously seeks growth as a leader in her profession to best support the workforce. When she is not connecting with the early education workforce, Denisse enjoys spending time with her husband of 22 years and their three amazing sons.
---
Emilie Coyne
MS in Leadership in Pre-K to 12 Education
Capstone - "In My Child's Shoes": A Parent Education Program To Address the Social, Mental, and Emotional Handicaps of the Gifted Student
Former President John F. Kennedy once said, "Leadership and learning are indispensable to each other." Former President Kennedy's words are central to Emilie Coyne's educational philosophy, which has developed through experiences as an educator and the knowledge gained during her studies in Pepperdine Univerity's Master of Science in K-12 Educational Leadership program. As a lifelong learner, Emilie continuously researches and seeks new opportunities to instill a love for learning and empower young minds to dream big and persevere. Emme Coyne is an elementary school teacher who aspires to become a principal of an inclusive Catholic Elementary School where all students of all abilities learn and work alongside one another.
---
Emily Stokes
MS in Organizational Leadership and Learning
Capstone - Building Resilience in the Workplace
Emily Stokes is the Employee Experience Coordinator for Cottage Health in Santa Barbara, California. She received her Bachelor of Arts degree in Therapeutic Recreation from California State University Long Beach and worked as a recreation therapist in a rehabilitation hospital for a year and a half before shifting careers and joining the Employee Experience team at Cottage. Emily is confident that the culmination of knowledge and skills gained from the Organizational Leadership and Learning program will allow her to further achieve her goal of positively impacting the lives of others through professional and personal development. She is grateful for the unwavering support from her family, friends, boyfriend, colleagues, and cohort members and hopes to make them proud in her future pursuits.
---
Jackie Alvarez
MS in Organizational Leadership and Learning
Capstone - Reimagining Family Engagement for Hispanic and Latinx Families: A Proposal of Changes for Neighborhood Homework House
Jackie Alvarez has dedicated the last ten years to working with non-profit educational organizations. Jackie values being kind, transparent, supportive, and fostering a growth mindset as a leader. In her current position with the People Operations department at Galileo Learning, she supports the organization with all things employee experience, offers, and onboarding as a human resources coordinator. As a first-generation Mexican American and proud daughter of two immigrant parents, she looks forward to leveraging her passion and skills to continue helping underrepresented communities access high-quality, comprehensive services. Jackie is inspired and motivated by the stories of the communities she has served over the last ten years. She aims to utilize her wide range of knowledge in non-profit programming, her BA in Human Development, and MS in Organizational Leadership and Learning to start a family services agency in her native city of East Los Angeles.
---
Joseph Gomez
MS in Leadership in Higher Education
Capstone - Dollars for (Cents)ible Living: K-12 Financial Literacy Curriculum Proposal for Lifelong Financial Development
Joseph Gomez is a middle-school teacher living in Kansas City, Missouri, with a lifelong passion for uplifting others. He grew up in Bell Gardens and Montebello, California, recognizing the diverse challenge that people face daily. As a first-generation Mexican American, Joseph admired education from a young age, hoping to graduate college like his father and serve as an inspiration for his younger brothers and cousins. After receiving his BS in Secondary Education at Baylor University, Joseph sought to expand his academic and career opportunities through a masters degree in Leadership in Higher Education. As a leader, Joseph values communication, collaboration, and managing conflicts to foster mutual growth. Joseph seeks to enter the higher education field to enhance college students' lives by providing the tools they need to overcome systemic barriers toward the fulfillment of their goals.
---
Karen Brook
MS in Organizational Leadership and Learning
Capstone - Human Trafficking and the Presentation of Trauma
Karen Brook is an experienced speaker, mentor, and first-time author. Compelled by her desire to encourage and empower others, she takes pride in creating practical and uplifting resources through Brave Global for at-risk youth and the communities that serve them. With her BA in Psychology of Human Development and her MS in Organizational Leadership, Karen aims to build organizations that meet real community needs profoundly and thoughtfully. She is passionate about helping individuals heal from trauma and building trauma-informed communities. Karen has been recognized for her ability to connect with others through her playful, disarming personality. Karen is a wife to Steve, a dog-mom to Ginger, and a follower of Jesus.
---
Kathleen Scott
MS in Organizational Leadership and Learning
Capstone - Best Practices for Remote Leadership in Higher Education
Kathleen Scott is a leadership and strategy specialist, speaker, and youth mentor. She graduated high school at age 14 and earned a Fine Arts degree with honors two years later. She then received her Bachelor of Arts in Government with the highest honors in 2019. That same year, at age 19, she was honored with the inaugural "Inspiration to Youth" Award during the 40th annual Young Artist Academy Awards. The accolade recognizes her dedication to serving as a positive example to youth by making exemplary contributions to the entertainment industry while exploring and succeeding in different spheres, such as academia and the EdTech space. At age 21, she is set to complete her Master of Science from Pepperdine University in Malibu. She will join the Flipgrid team at Microsoft via Collabera and remains open to exciting ideas for the future.
---
Katie White
MS in Organizational Leadership and Learning
Capstone - Countering Implicit Bias in Pursuit of Holistic Admissions in Higher Education
Katie White serves as Associate Director of Admissions at Pepperdine University's Seaver College. After receiving her Bachelor of Arts in
Psychology from Pepperdine University, she was compelled to pursue a career in higher education and continued to obtain her Master of Science in Organizational Leadership and Learning. Her passion for higher education prompted her research around equitable practices throughout the holistic application review process. Katie identifies herself as a Christian, friend, encourager, advocate, and lifelong learner.
---
Kenya Montalvan
MS in Leadership in Higher Education
Capstone - Redesigning Student Recruitment in Latin America: A Series of Workshops To Help Navigate The US College Application Process
Kenya Montalvan has devoted seven years to specializing in early childhood & adolescent development and creating innovative and durable educational programs. Kenya is the founder of The First Bloom, which focuses on supporting first-generation college students by developing equitable opportunities for students' professional growth. Her passion evolved when she graduated with a Bachelor of Arts in Child and Adolescent Development and Geography from CSU Northridge and later pursued a Master of Science in Leadership in Higher Education from Pepperdine University. As a first-generation Latina college student, she understood that inequalities were persistent, and she needed to initiate change to increase the representation of women just like her on university campuses. Therefore, in 2022 Kenya will be rebranding The First Bloom to include support for international students from Latin America pursuing higher education in the United States.
---
Krikor Abounayan
MS in Organizational Leadership and Learning
Capstone - The Njdeh School in Armenia for locals, diasporans, and children with special needs
Krikor (Koko) Abounayan is a Chemistry teacher at Holy Martyrs Armenian Ferrabian High School, one of six private Armenian Schools in southern California. He graduated with a BS in Biology from California Polytechnic State University, Pomona. He is a lifelong activist in the Armenian community and a passionate leader of the youth. Previously, he has been the Executive Director of the Armenian Youth Federation juniors, which is an extracurricular program with the goal of promoting Armenian culture and human rights activism in the youth. Diversity, equity, and inclusion theories inspired him to found the Pyunik basketball program for children with special needs. With his MSOL degree, he strives to continue to serve underrepresented populations in the education sector.
---
Leticia Estrada
MS in Leadership in Higher Education
Capstone - High-Impact Practices for First-Gen Latinx Students: An immersive workshop series for students to increase engagement and academic completion
My name is Leticia Danielle Estrada. As a first­generation Latinx student, I am able to empathize with the challenges that disadvantaged populations must overcome to succeed in college. It took several failures to find my learning style and gain confidence in a classroom setting. The community college environment gave me the ability to embark on a journey of self-discovery with guidance from leaders who recognized my potential and encouraged my growth. It was through these developmental interactions that I was able to transfer to California State University Dominguez Hills and obtain my Bachelor's Degree in Psychology. Upon completion of my degree, I realized I wanted to dedicate my life to mentoring students and do my part in making success attainable for all students. I look forward to representing my community with the knowledge I have gained from this program as a servant leader who makes decisions with an equity lens.
---
Michelle Cervantes
MS in Leadership in Higher Education
Capstone - Fostering Retention for First­-Generation College Students: A Professional Development Program for Academic Advisors
Michelle Marie Cervantes is a higher education professional working with underserved and underrepresented communities to pursue educational achievement. She graduated Cum Laude in 2019 from California State University Northridge, where her passion developed for working in higher education institutions to advocate for students from low-income and historically disadvantaged backgrounds. Her passion for serving others derives from the example her mother and older sister set upon her life, ultimately leading her to pursue graduate studies. Michelle received immense motivation to accomplish all of her educational goals with the incredible support of her husband during every season of their lives. Through her experience as the first person in her family to receive a college degree, Michelle hopes to continue the cycle and strive to offer students the same support given to her and withhold leadership roles in higher education by applying student-centered values in the future.
---
Patricia Pegram
MS in Organizational Leadership and Learning
Capstone - Meaning-Making in the Classroom: Outdoor Education Pedagogy Training for Traditional Education Settings
Patricia Pegram works for Camp & Retreat Ministries of the Desert Southwest Conference UMC as the Office Administrator. Patricia earned her BA in Outdoor Ministries & Adventure Leadership, with an emphasis on Environmental Education and Ministry, from Eastern Mennonite University after experiencing the transformation and growth that happens uniquely at camp and in nature. This passion for learning in and about the outdoors turned into 14 years (and growing!) of experience in summer camps & retreat ministry. Additionally, Patricia spent 6 of those years managing outdoor education and summer camp day programs for a non-profit in Southern California, receiving a certificate from the BEETLES Leadership Institute in outdoor science school pedagogy and becoming a member of California's Association for Environmental & Outdoor Educators. Using her experience in tandem with this graduate degree, Patricia hopes to provide training for the trainers of leaders, instructors, and teachers across all types of organizations.
---
Rachelle Araghi
MS in Organizational Leadership and Learning
Capstone - "The Broken Rung" - Women in the workplace who are significantly underrepresented in leadership positions and the barriers women continue to face in Corporate America
Rachelle Araghi has been in the legal industry for over ten years as an Executive Assitant. In 2016, she enrolled back in school to pursue her undergraduate degree at CSUF, studying Communication with an emphasis in Public Relations. There, she learned how important it is to volunteer and work with the community to help advocate for non-profit organizations, particularly no-kill animal shelters and foster care youth homes in Orange County. In 2020, she took a leap of faith during the pandemic and decided this was her opportunity to pursue her master's, a program that would foster leadership and ethical operational practices. Two years later, she will be graduating from Pepperdine University with her Master of Science degree in Organizational Leadership. In Rachelle's free time, she enjoys spending time with her family and friends, hiking, hot yoga, reading, and is currently taking on golf with her fiance.
---
Rashida Wright
MS in Organizational Leadership and Learning
Capstone - There's Somethin' about Those Southern Girls: A Collection of Studies and Stories of Successful Black Women Leaders from The Deep South
I am Rashida Wright, an Atlanta native based in Austin, Texas. A graduate of Georgia State University, I currently possess a Bachelor of Arts in Journalism, concentration in Public Relations, and a minor in Hospitality Administration. I am a child of a Liberian immigrant, a proud daughter of Hannan, and an older sister to Rashad and Brooke. Currently, I serve as a Senior Process Executive - Data for Cognizant Technology Solutions, one of the world's leading professional service companies. After working in various marketing roles for W Hotels, Marriott International, and Omni Hotels and Resorts, I realized there was a lack of representation in many C-suite positions, leaving qualified diverse candidates out of the leadership pipeline. I decided to pursue my Masters to transition into the diversity, equity, inclusion, and belonging space (DEIB) and create leadership opportunities for BIPOC and other marginalized groups. In addition to publishing my book about black southern female leadership, I hope to assist organizations with their DEIB efforts, develop diverse leaders and dispel the myth that quality diverse executive candidates do not exist.
---
Sara Selwanes
MS in Organizational Leadership and Learning
Capstone - Parenting Education Program for Immigrant Families
Sara Selwane is a passionate educator, mentor, and service leader. After graduating with her Bachelor's of Science in Human Services from California State University, Fullerton, she continued her internship at St. Joseph Catholic School in Santa Ana. Interning led her to her full-time teaching position. This experience guided her to see the merit of a faithful community. Additionally, Sara has always played a significant role in mentoring and serving her church's youth. In both of these environments, she learned the value of faith-filled education and community. These fulfilling experiences guided her to pursue her Master's Degree in Organizational Leadership and Learning at Pepperdine University. Sara has the passion and confidence that the knowledge and skills she learned will enable her to serve her community.
---
Susanna Sayan
MS in Organizational Leadership and Learning
Capstone - The Leader of a New Era
Hello everyone! My name is Susanna Sayan. I graduated from the University of California, Los Angeles, with a bachelor's degree in Psychology. I currently work as a Claims Team Manager at Liberty Mutual Insurance Group. I have been working here as a Claims Analyst for the past 5 years and recently got promoted to my new role as a manager. I am currently enrolled in my Master's Program in Organizational Leadership and Learning. For my Capstone project, I decided to explore the topic of Bitcoin in depth. As technology continues to advance at a rapid pace, we must be able to adapt to these changes to keep up with the times. For this reason, I decided to explore and learn more about digital currencies becoming the chief way people pay for goods and services in the 21st century.
---
Tammy Nguyen
MS in Leadership in Higher Education
Capstone - Nguyener's Circle I A 24/7 Mobile App that Provides First-Generation Students Access to Support Services
Being raised by immigrant parents, I have endured the adversities of being an Asian American first-generation student. I faced various barriers matriculating into higher education. I struggled to find my passion, which led me to change my major seven times at Santa Ana College. Even though I obtained an associate degree in Liberal Arts, Sociology, and Communications, I was still lost. However, after graduating from Cal State Fullerton with my bachelor's degree in Human Services with an emphasis in Mental Health, I realized I truly loved empowering others, especially first­generation students like myself. I strive to continuously share my story and inspire those around me to do the same. I believe as we live to celebrate our accomplishments, our struggles deserve the same recognition. My name is Tammy Nguyen, and I am here to change the future of education, where all students will prosper in all aspects of their lives.
---
Tia Moore
MS in Organizational Leadership and Learning
Capstone - Anti-bias Training for Law Enforcement
Tia Moore has over 20 years of law enforcement and military experience. She earned her BA in Psychology from California State University Long Beach and shares a profound interest in organizational behaviors. Tia is a lifelong learner and education advocate, as she seeks to take her master's degree in Organizational Leadership and Learning into the workplace and broaden others' knowledge in matters of diversity, equity, and inclusion. She is a firm believer in all that is fair and good, which translates into a boldness in thought and action, bred in confidence and conviction. She is fearless in her pursuit to ensure the voice of the underserved and underrepresented is heard.
Outside of her career and academia, she loves to travel and spend time with her daughter and significant other.
Marial Romero
MS in Leadership in Pre-K-12 Education
Capstone - The Impact of Fostering Self-advocacy Skills and Agency in Students of Color Through a High School Dance Program
As an authentic leader and classroom teacher, I aspire to utilize my identity, background, personal experiences, dance expertise, and conviction to motivate, support, and inspire staff and students. I envision leading my classroom and school community in a way that supports, advocates and propels an ethical and equitable organizational culture in and outside the classroom. The goal for this learning dance program is to offer multiple and differentiated learning opportunities for students in which they will explicitly think, feel, perceive, act and interact in pivotal and authentic ways. I want this dance program to propel students of color's education and bring consciousness and awareness about what determines an equitable and quality education.
---
Feven Stefanos
MS in Organizational Leadership and Learning
Capstone - Can workplace soft skills be learned?
Feven Stefanos received her Bachelors in Psychology from CSU Dominguez Hills in 2018. After working several administrative roles, she landed a Recruiter position with the staffing agency Manpower. She now helps place people in jobs in several businesses in the city of Los Angeles. She hopes to one day get into the field of career development so she can help people grow in their professional careers.
---
Vivianna Kirby
MS in Leadership in Pre-K-12 Education
Capstone: The Supremacy that Matters: A Leadership Training for the FWPD Administration
Businesswoman, author, and servant at heart, Vivianna has committed to a lifetime of service, ensuring equity and justice for people of color. Using her platform as the owner of a broadcast media organization and the upcoming release of her first book, Vivianna thrives on setting the example to live a life of purpose, intention, and in service to others. In addition, she is pursuing her PhD in Global Leadership and Change here at Pepperdine University in the fall.
---
Kimberly Barkis
MS in Organizational Leadership and Learning
Capstone - Proposal for On-boarding Advancement Employees into a High-Performance Culture
Kimberly Barkis serves as Director of Development at Pepperdine University, where she advances the University through fundraising. Her roots with Pepperdine have deepened over the last fourteen years through her various roles as an employee, proud Pepperdine parent, and student. Kim received her Bachelors of Science in Business Administration in the 1980s and decided to pursue an MS in Organizational Leadership and Learning at GSEP to equip and empower herself for continued career success. Kim resides in Westlake Village with her
husband of 33 years, Bruce, a consultant and an adjunct professor at Pepperdine Graziadio Business School. They have two grown children, Kelsey and Riley. All four of the Barkis family will be Pepperdine Alumni.
---
Raelyn Alvarez
MS in Leadership in Higher Education
Capstone - Developing a Summer Program to Support International Students in Community Colleges
Raelyn Alvarez obtained her bachelor degree in Business Administration from Azusa Pacific University in 2018. She has had the opportunity and privilege to have invested almost ten years within the field of higher education. Raelyn has worked in various departments and divisions within higher education as well as with students from all over the world. Her most current position is in the field of international education at Mt. San Antonio College. These experiences and education have given Raelyn the insight on how to continue to further advocate for students from all walks of life. With this in mind, Raelyn will continue investing her time and energy towards the development of students pursuing their educational and personal goals.
Brianna Monkarsh Benaron
MS in Organizational Leadership and Learning
Capstone - Generation to Generation: A Premier Mentorship Program for Young Adults to Grow Personally, Professionally and Spiritually
Briana Monkarsh Benaron received her Bachelors in Business Administration and Marketing from The George Washington University in Washington, DC. With her passion for education, youth and service, Briana currently serves as the Director of Young Professionals at Sinai Temple in Los Angeles. Briana lives in LA with her husband, 5 month old son and labradoodle.
---
Natalie Lehman
MS in Organizational Leadership and Learning
Capstone - Defining and Sustaining Purpose: An EmployeeDevelopment Program
Natalie Lehman is a Senior Research Analyst, at Cause IMPACTS, a social impact consulting firm based out of Los Angeles. Her work has focused on increasing regional economic development through workforce programs and cross-collaboration across sectors. Natalie's perspective on building sustainable, equitable, and thriving communities are driven through leadership development, improving policies, and increasing advocacy efforts within the private, public, and non-profit sectors. Natalie has worked with higher education institutions and regional workforce development entities to build workforce development programs and implement policy changes that support under-
served and underrepresented student populations to achieve their educational goals.
---
Katy Fujitani
MS in Organizational Leadership and Learning
Capstone - Case Management Revolution: Designing an Effective and Efficient Platform
Katy Fujitani is a Sr. Lead Business Analyst at Pepperdine University who engages the community through the Salesforce ecosystem. She is a Salesforce Certified Administrator with over five years of multi-org experience and over twelve years in higher education who believes in finding solutions, open communication, and the value of positivity.
---
Cecilia Urrea
MS in Leadership in Higher Education
Capstone - The Effects of Families and Communities in Early Childhood Achievement
I was born in Los Angeles County, after graduating California State University, Los Angeles in 2016, I did my speech and language pathologist license program and woked in public and private sectors. My aspiration to pursue graduate education resulted in me completing my Masters degree in Leadership in Higher Education in 2021. Since 2011 I have been a preschool teacher and site supervisor in the San Gabriel Valley. I aspire to become a college professor and to sucessfully run my day-care and non-profit organization. My interests include international travel, book collecting, early childhood development, and yoga. I also enjoy the Bible and being a Christian very much. I live with my parents, both of. whom I am proud to say come from a small town in the tip of Guadalajara and Sinaloa.
---
Brad Fry
MS in in Organizational Leadership and Learning
Capstone - Systemic Equality: Creating a Sustainable Diversity, Equity, and Inclusion Program for a National Construction Company
Brad Fry is the Director of Personnel Development for O'Neil Industries, Inc., an ENR Top 100 commercial generalcontractor with six regional offices across the country. Brad oversees people operations including recruiting and retention, training and development, and performanc management. He produces the company's annual convention and mentors the Leadership Development Group. Brad earned a BS in Engineering at Cal Poly Pomona in 1993 and is currently completing an MS in Organizational Leadership and Learning at Pepperdine University. He has been a guest lecturer at UCLA, Cal Poly Pomona, University of Illinois, and for the AGC in Colorado; and serves on the Industry Advisory Committees for the Civil Engineering Departments of UCLA and Cal Poly Pomona and on the Board of Trustees of the Craft
Contemporary museum in Los Angeles.
---
Geena Brocca
MS in Organizational Leadership and Learning
Capstone - Building an Equitable Classroom: A Complete How-To Training
I am Geena Brocca. I am currently a 5th grade Math and History Assistant Teacher at Viewpoint School. I have been a part of the Viewpoint School community for the past two years and look forward to using my new Master's degree to further my career there. Previous to Viewpoint, I worked in the classroom and as an. Activities Director at another private school where I found my love for working with children. This passion has grown vastly over the past six years. I am driven by my students' accomplishments and success and I adore seeing them grow. It is my aspiration to make a difference in children's lives by providing them all with equitable opportunities to learn and achieve their individual
academic goals. Aside from my love of learning and teaching, I enjoy any and all outdoor activities. Ultimately, my favorite days are spent in the classroom nine months out of the year and in the summer sun the remaining three months.
---
Patrick Liu
MS in Learning Design and Innovation
Capstone - VR Learning in K-12 Education
I currently work as a Banker at Wells Fargo Bank. My main job is helping people to solve their financial problems. Deeper into my interaction with people, I realized that most issues come from education. No matter what they are. Therefore, I chose education as my master's degree major. In the future, I hope I can become a professional educator to help more people.
---
Shira Kreitenberg
MS in Organizational Leadership and Learning
Capstone - Culture Change Program for AIPAC: Addressing Organizational Culture through Core Values, Leadership, and Change Communications
Shira graduated from the University of Michigan in 2015 with a bachelor's in Organizational Studies, and now looks forward to completing her master's degree in Organizational Leadership and Learning at Pepperdine University. Upon completing her undergraduate studies, Shira spent one year living and teaching English in Santiago, Chile. Currently, Shira works in fundraising and development for a non-profit public affairs committee, AIPAC, and she looks forward to transitioning into the field of organizational development. Shira is passionate about employee and leadership development, and helping organizations foster a supportive and productive work environment. Shira is also interested in employee engagement, training and onboarding, team building, and organizational culture. In her free time, Shira loves to sing, cook, hike, camp, and travel! Shira is grateful for this opportunity to present her Capstone Project to her peers and professors today.
---
Vanessa Rosales
MS in Leadership in Higher Education
Capstone - Assessing Student Needs and Programs in University Career Services
Vanessa Rosales is an experienced Student Affairs and Career Services Professional with a demostrated history of working in non-profit and education management including primary, secondary, adult, and higher education. Her passion for education lies in her belief that all individuals have the potential to grow and achieve their goals, regardless of their adversity. Through her experiences in working with underserved youth and adults in education, she has witnessed the need in providing student support services. After working as a Career Guidance Specialist for Irvine Unified School District and a Career Development Specialist at Pepperdine University, she developed a passion for career development. Vanessa hopes to start her own consulting business in career development to inspire and guide others towards reaching their goals.
---
Jennifer Smigelski
MS in Leadership in Higher Education
Capstone - Building Local Relevancy: A Protocol for Adapting Corporate Training in a Global Environment
Jennifer Lea Smigelski serves as the Director of Talent, Learning & Organizational Development for Thai Union North America, which includes iconic seafood brand Chicken of the Sea. She has more than 20 years of cross-functional leadership experience spanning multiple industries at companies that include Nike, Reuters, CSC (now DXC) and Morgan Stanley. Her experiences and accomplishments reflect her passion for creating connection and supporting others' growth and include Executive Coaching, leading diversity initiatives, and launching development programs for both commercial and people leaders. Jennifer earned a Bachelor of Science degree from Cornell University and participated in the Cornell-Duke EDUCO study abroad program in Paris. She also holds the Senior Certified Professional designation from the Society of Human Resources Management (SHRM) and completed coach training through the Co-Active Training Institute (CTI).
---
Jasmine Sun
MS in Leadership in Pre-K-12 Education
Capstone - Best Practices in Supporting International Undergraduate Students in American Colleges and Universities After Enrollment
Jasmine Sun comes from Shandong, China and graduated from UCLA with a Bachelor of Arts degree in Applied Linguistics. She chooses Education Leadership K-12 as her career path with the intent to help garner positive connection and communication between youth of different cultures. She believes that with exposure to different cultures, an individual has the capacity to react the full potential of their abilities. She wants to help forge a future in which international cooperation is made easier through the promotion of healthy thinking, added empathy, and increased understanding for one another in students.
---
Arianna Fouad
MS in Organizational Leadership and Learning
Capstone - Organizational Culture and Behavior Change: Diversity, Equity, and Inclusion Leadership and Skill Building in a Remote Environment
Arianna has worked in Learning & Development for the past six years. She works as a Curriculum Development Specialist for Papa Murphy's International's headquarters in Vancouver, WA, just outside Portland. Creating effective organizational learning is her passion, and completing her MSEd in Organizational Leadership & Learning has provided excellent context and theory to fuel this passion. Arianna believes engaging learning experiences can provide organizations the unique opportunity to communicate their culture and strategy to their employees, which offers significant meaning to the work she does. She has lived in the Portland Metro area her whole life and loves the Pacific Northwest. In her spare time, she enjoys being with her family- especially her 14-month-old baby girl, cooking, visiting the Oregon coast, and watching her husband wake surf on the Columbia River.
---
Karen Cifuentes
MS in Leadership in Higher Education
Capstone - Community College Work-Based Internship Training Program
Karen Cifuentes is a resilient woman. She came to this country at the age of 19 and overcame several obstacles, including a language barrier, to become the woman she is today. These experiences shaped her core values. She hopes to inspire and influence people to pursue higher learning, especially those who never envisioned earning college degrees. Her dream is to work in a collegiate environment that strives to provide equal resources and opportunities for minorities. Her mission is to inspire, encourage, support, and enhance the lives of underrepresented students by promoting access to available resources they may not have known were available to them. She values diversity, the uniqueness of people, and the believe of personal empowerment through hard work, discipline, and commitment. Above all, she believes in never wavering from these principles no matter how easy it would be to do so.
---
Stephanie Menjivar
MS in Organizational Leadership and Learning
Capstone - Mentoring Future Leaders: Penny Lane Centers Mentorship Program
Stephanie was born and raised in the San Fernando Valley and obtained her BA at Mount Saint Mary's University. She currently works as an Employment Support Specialist. Her work with at-risk and disabled youth, and first-hand experience as a first-generation American has caused her to become a mentor and serve her community. Stephanie hopes to join an Organizational Psychology doctoral program and wishes to understand how the attitudes and stereotypes of the disabled community influence leaders' perceptions, hiring processes, and its long-term effects in the workplace.
---
Claire Lowndes
MS in Leadership in Pre-K-12 Education
Capstone - How Do Schools Prepare for Education in a Post-Covid World?: An Investigation Into the Impact the Pandemic is Having on K-12 Education and How to Plan for Best Practice Beyond It
Claire Lowndes is from the UK and recieved her BA in design, a PGCE in Art Education, and she has been an inspired visual arts educator for fourteen years. Claire is currently the Director of Academics at a private non-profit international college preparatory boarding school in California. Her professional passions are driven by her love of learning and her commitment to supporting students to unlock their potential and achieve their ambitious goals for the future. Her aspirational goal is to use her creativity to develop educational practices to fill classrooms with inspired teachers to innovate and adapt in today's ever-changing world and beyond.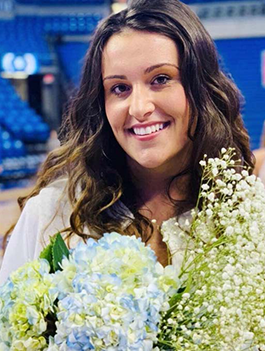 Tara Dusharm
MS in Leadership in Pre-K-12 Education
Capstone - The effect of social media on the way one perceives their body among teenage women.
My name is Tara Dusharm. I was born and raised in Foley, Minnesota. I attended Saint Louis University and received a bachelor's degree in
communications with a minor in Women's and Gender Studies. While my time spent at Saint Louis University, I was a part of the women's basketball team. I was able to continue my athletic career here at Pepperdine University as well as pursuing a master's degree within the GSEP program. My life has ultimately been revolved around the game of basketball. I look forward to pursuing a new career within education systems, mainly focused upon the Inner City School Systems. I aspire to help underprivileged children develop and pursue
their goals and aspirations.
---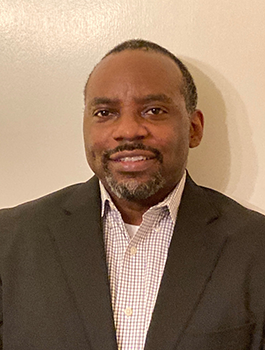 Kenneth D. Howard
MS in Leadership in Higher Education
Capstone - Closing the Achievement Gap: What Measures Must be Taken to Increase the Graduation Rate and Competitiveness of Students from Lower Socioeconomic Backgrounds.
Hello, I am Kenneth D. Howard, and I am an eighth-grade science teacher at La Tijera K-Academy of Excellence. This school year is my eighth year working at the school, and before here, I worked for the Los Angeles Unified School District for 12 years. I was born and raised in Los Angeles, California, and spent most of my childhood here. I attended Harvard School, which is now called Harvard-Westlake, and finished high school in Tallahassee, FL. After graduating from Lincoln High School, I attended the University of Florida, where I earned a BS in Microbiology and Cell Science. My hobbies include playing all kinds of sports, basketball, football, tennis, golf, and running 5ks, 10ks, and marathons(not anymore), reading, and watching movies. I have coached football, basketball, and softball during my teaching career.
---
Amadi Udenyi
MS in Organizational Leadership & Change
Capstone - How Has Social Media Impacted Enrollment for Incoming College Freshmen And Employment For College Grads
Hello my name is Amadi Udenyi and I attended Pepperdine University undergrad and played for the Men's Basketball team for 4 years. I'm currently a graduate assistant coach for the team while pursuing my masters degree. I love everything about the university and glad that I will forever be a part of a great university. After receiving my organizational leadership degree I plan on using it in my next field of life when I enter the sports marketing industry.
---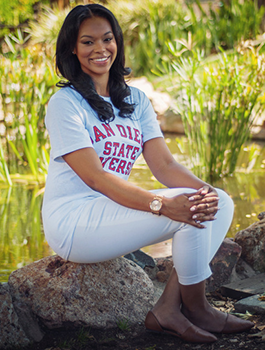 Shanice Watkins
MS in Leadership in Higher Education
Capstone - The Miseducation of Education in Regards to African American Students: The Effects of Resources and Retention
Shanice Watkins is a proud born and raised Angeleno. With a BA from San Diego State and soon to be graduate of Pepperdine University's GSEP program, she aims to advocate higher education for youth in historically underrepresented communities to change the odds of their lives. Shanice understands the impact of mentorship and higher education and wants to impact others' lives just as hers was.
---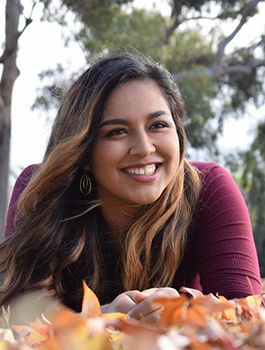 Sarahi Velazquez
MS in Leadership in Pre-K-12 Education
Capstone - Autism in the Classroom: Teaching K-12 Children with Autism in the Hispanic Culture
I have had a passion for helping other people and children learn other languages to interact with society. I would like them to have smooth transition and face minimal challenges during my junior years. I have moved to study psychology to help me deal with the protection of disabled people, especially autism condition. I have been struggling to create a haven for different children and create a conducive environment for all students. I have been trying to teach what I have learned in school to help people with different linguistic problems.