Urban Parent-Teacher Education Collaborative Helps Launch a New Elementary School Science Lab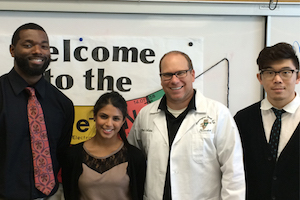 On Friday, October 10, Huntington Park Elementary School (HPES), celebrated the grand opening of their new science lab. GSEP partnered with the school through the Urban Parent-Teacher Education Collaborative (UPTEC), which places Master of Arts in Education and Teaching Credential program (MAETC) students in schools made up of culturally diverse and low-income students. UPTEC is a community-based teacher education program that works with elementary, middle, or high schools in LAUSD's ESC-South.
"UPTEC provides GSEP teacher candidates with the opportunity to gain more hands-on experience than traditional student-teaching assignments," said Anthony Collatos, PhD, Associate Professor of Education and Director of UPTEC. "In addition to their teaching responsibilities, UPTEC students commit to developing service projects to meet the needs of the local schools. This year our teacher candidates will develop two science labs, and math leadership and college access academies."
The timing of the new lab was crucial for HPES since many California public schools have been impacted by the initial implementation of the Common Core State Standards (CCSS) and the adoption of the Next Generation Science Standards (NGSS). Throughout the 2014-2015 academic year, MAETC students—Melvin Johnson, Yale Minn, Katherine Romero, Kim Squitieri, and Christopher Yu—will provide teachers with much needed assistance in the development of age appropriate labs and implement thematic science units aligned with the Next Generation Science Standards.
"The lab creates a space where students are learning science hands on rather than just reading about it in a text book, which will help as we implement these new education standards," said HPES Principal Antonio Amparan. "Students will explore concepts such as sustainability, adaptation, and wellness through project-based learning."
The HPES Science lab is also one effort to improve the health and wellness of the HPES youth and families. The California Center for Public Health Advocacy and the UCLA Center for Health Policy Research (2012) found 53% of Huntington Park's school children are overweight or obese, the highest rate of 250 California cities analyzed.
"According to the study, conditions in both the schools and communities that impacted the students' health needed to be addressed," said Collatos. "The theme of the curriculum this year will be 'How to Sustain a Healthy Environment and Body,' and at the end of the academic year, HPES students will produce books that will be shared with the local community."
Financial support for the lab was made possible thanks to a $10,000 grant from the Carol and James Collins Foundation. Under the leadership of HPES Principal Amparan and Collatos, HPES also partnered with Sharefest Community Development Inc. and the local school faculty to build out the lab in time for the 2014-2015 school year.