Student Spotlight: Kathleen Scott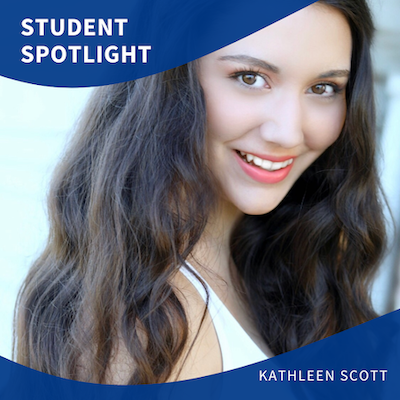 Kathleen Scott is a career development specialist, award-winning filmmaker, and a student in our MS in Org Leadership & learning program. Her past accomplishments include graduating highschool at age 14, and receiving the inaugural "Inspiration to Youth" Award from the Young Artist Academy, which has since been received by Shark Tank's Robert Herjavec. She has also produced 7 film projects featuring Emmy-Winning talent, including Tiffany Haddish.
Kathleen Scott hosted a presentation entitled "Learning, Inclusion, and Technology in the Modern Classroom," designed to explore the most relevant topics in modern-day education at the Educators Rising National Conference. The session provides information and analysis of learning styles, examines ethical plans of action to respond to real-world challenges, and evaluates the integration of technologies in collaboration and virtual learning. Developed to spark a conversation, viewers will be able to begin reflecting on and developing personal teaching styles and strategies for K-12. Kathleen is currently one of the youngest Master of Science candidates at Pepperdine University, where she studies Organizational Leadership and Learning while serving as a Career Development Specialist at the Graduate School of Education and Psychology.
Educators Rising hosts programs around the country that promote teaching and support high school and college students in becoming educators. Their efforts were recognized in the Department of Education's "COVID-19 Handbook, Volume 2: Roadmap to Reopening Safely and Meeting All Students' Needs."