Social Benefits: Identifying the Significance of Adult Friendships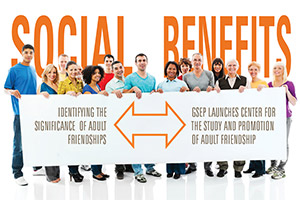 Throughout the years, popular culture has given us a number of tributes to friendship – from Dionne Warwick's song "That's What Friends Are For" and Maeve Binchy's novel Circle of Friends, to the hit TV sitcom Friends. A quick search on Pinterest or Google will return a wide variety of quotes, both inspirational and cynical. So when GSEP psychology professors Shelly Harrell and Edward Shafranske began their research through the newly-developed Center for the Study and Promotion of Adult Friendship, they were surprised to learn that there was a large gap in the existing research on friendships.
"When we reviewed the literature on friendship, we noted that most research and even most theory has focused on either friendship in childhood, friendship in adolescence and college age, or on romantic, intimate relationships with adults," Shafranske said. "It's rather interesting because we know from other areas in the field and sociology that friendships can have a great deal of effect on us as individuals."
Through the center, Harrell, Shafranske, and their research team aim to look at the potential effects, positive and negative, of casual and close friendships in an adult's life.
Click here to read the full article.