The Social Entrepreneurship & Change Program's First Trip to Washington D.C.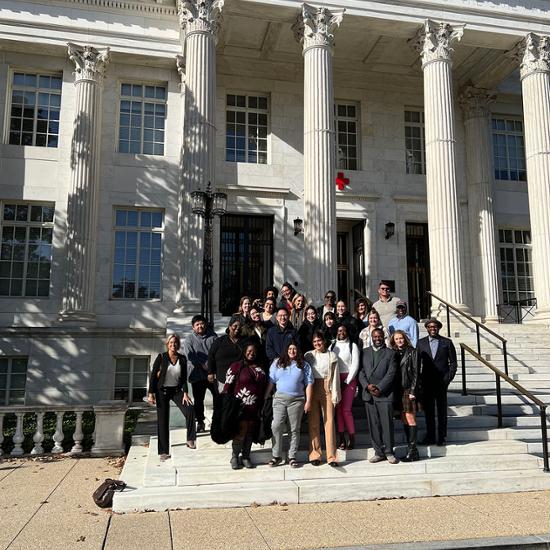 Students in the Social Entrepreneurship and Change program experienced their first classes on the Pepperdine Washington DC campus. Students enrolled in ESEC 620: Social Entrepreneurship and ESEC 600: Leadership and Service were provided with the bi-coastal experience of West Coast entrepreneurism and East Coast policy and advocacy in the fall semester. Off-campus visits included the United States Capitol, the US Department of Education, the Department of Transportation, among others. As part of the cocurricular experience, Halcyon, an accelerator for social enterprises, provided students with the opportunity to meet with current fellows, network, and start their organizations in a collaborative environment.
Students also participated in a lecture and guided tour at the National Headquarters of the American Red Cross; and were met by Vice President of Service to the Armed Forces, Dr. Michael Jordan EdD '20). They came across a quilt significant to the American Red Cross's history. It was a quilt riddled with prominent figures and organizations that were part of a donation campaign to raise funding for relief for war victims. The students were met with the happy surprise to find the Pepperdine GSEP was also on this quilt. From cohort #16, Lisa Fentress says, "I enrolled in the Pepperdine SEC program to explore opportunities for the next phase of my career. After the first semester, I can honestly say that the program has exposed a whole host of new opportunities and different career trajectories I can feasibly explore in the next phase of my career. I can not only explore these opportunities within the SEC program, but I also believe my participation in the SEC program and the SEC network will help me make the desired career transition a reality. One step at a time with SEC! Onward and upward!"
In five terms (20 months), students of the cohort-based, hybrid program will attend one synchronous online evening class per week and attend two 3-day weekends in person each term (one on the Los Angeles campus and one on the Washington D.C. campus) with the flexibility to continue to live anywhere in the world. Students gain experiential education through the capstone project by incubating a plan and presenting a final pitch to a panel of influential social entrepreneurs with the potential to win seed money. SEC students and faculty will return to Washington for the annual Fast Pitch competition and 1st Social Innovation Conference in March 2023.
For more information, visit the Master of Arts in Social Entrepreneurship and Change website.
Images Courtesy of Dr. Denise Berger (EdD '13) and Dr. Sonya Sharififard (Ph.D. '20)