Pepperdine Remembers GSEP Faculty and Administrator Robert Barner
Dr. Robert Barner was a gentleman and a scholar. Growing up in the Los Angeles area, he represented his family with distinction. He graduated from the University of Redlands with degrees in both chemistry and biology and earned a master of arts degree in counseling psychology from Loyola Marymount University. He later received his PhD in administrative and policy studies in education with a cognate in management and economics from the University of California, Los Angeles. Dr. Barner also completed a post-doctoral fellowship at the Harvard University Graduate School of Education and four credentials from the California Commission on Teacher Credentialing.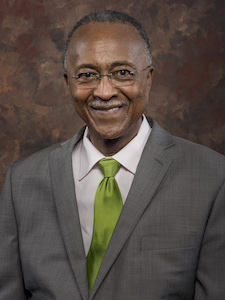 He further distinguished himself as a teacher and administrator in the Los Angeles Unified School District, and as assistant superintendent of education programs in the Los Angeles County Office of Education. He considered himself to be blessed to serve as an associate professor at California State University, Dominguez Hills, and in numerous roles at the Graduate School of Education and Psychology at Pepperdine University, but the blessing was ours. He taught classes, administered programs, and served on committees at GSEP from 1977 to 2019. Most notably, he served on more than 50 dissertation committees of which he chaired 32. From 2014 to his retirement, this two time National Science Foundation Award recipient served as GSEP's Rosalyn S. Heyman Distinguished Professor. Dr. Eric Hamilton, a fellow National Science Foundation Award recipient and professor of education at GSEP, shared that Dr. Barner was an excellent friend, servant, and leader, and that he will be missed, for we are less without him here.

Dr. Robert Barner's handprint is on many facets of the educational system in the United States. His work improved special education programs, reading programs, the teaching of math and algebra, the implementation of small group instruction, the use of technology to track student academic achievement, the development of behavioral intervention plans for severely at risk students, the advancement of emergency immigrant education programs, and facilitating career ladders for paraprofessional teachers—just to name a few.

As could be expected, Dr. Barner distinguished himself within the larger community as well. He was a lifelong member of the Phi Beta Sigma Fraternity, a board member of the Maranatha Community Church, a Lauren Reznik Institute Fellow, and a frequent attendee of the First African Methodist Episcopal Church of Los Angeles. He was a pillar of the community and a lover of all humanity.

"Dr. Barner was a strong leader and a trusted friend," said Dr. Helen Easterling Williams, dean and professor of education at GSEP. "He was also a man of great stature with a penchant for excellence, civility, and sophistication. He would go to great lengths to meet the needs of our students. His are shoes that cannot be filled. Our thoughts and prayers go out to his family and friends at this time of great trial."

For those who wish to send condolences to the Barner Family, please send cards, notes, or letters to the GSEP dean's office at 6100 Center Dr., Fifth Floor, Los Angeles, CA 90045, and the dean's office will forward them. Details of a funeral service are forthcoming. Please join us in prayer for this beloved family.