Pepperdine GSEP Faculty, Students, and Alumni Shine as Presenters at the CATESOL State Conference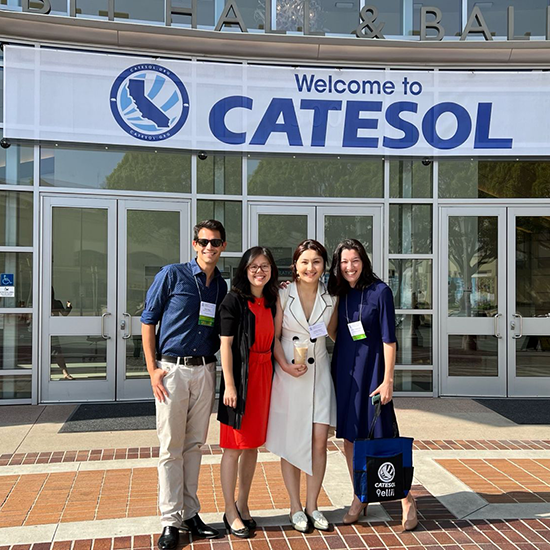 In the dynamic realm of English language teaching, Pepperdine University Graduate School of Education and Psychology (GSEP) stands as a shining example with TESOL faculty, students, staff, and alumni on full display at the California Teachers of English to Speakers of Other Languages (CATESOL) 2023 State Conference.
Established in 1969, CATESOL is a distinguished nonprofit organization that welcomes all individuals concerned with English language education, supporting professional development, research, standards, and advocacy.
This year, CATESOL will hold their annual conference at the College of Alameda from October 26-28, 2023. Contributing to the conference theme, "Breaking New Ground," GSEP faculty, staff, and alumni will be presenting on innovative and boundary-pushing topics such as translanguaging in Mandarin-English classrooms, communicative competence, artificial intelligence, metalinguistic awareness, humanizing pedagogy, belonging, dance, and critical reflection through digital tools. These presentations (featured below) underscore the depth of expertise within the GSEP community.
Moreover, the new cohort of Pepperdine TESOL students will be represented at the CATESOL State Conference as conference travel is a signature experience of the MA in TESOL program.
Pepperdine TESOL, guided by Dr. Wong (a board member of CATESOL) and its dedicated faculty, students, and alumni, continues to be a driving force in the advancement of English language teaching and learning. We wish our Pepperdine Waves every success as they gear up for CATESOL 2023 and applaud their commitment to excellence, diversity, and the promotion of multilingual education within California and the broader educational community. More updates and insights will be announced.
Pepperdine GSEP Presenters and Their Topics:
Translanguaging Pedagogy with Mandarin-English Bilingual Students to Promote Metalinguistic Awareness

Presenters: Kevin Wong*, Feidana Yalikun**, Peiyao Wang**, Guoran Zhang** & Jingyi Zhou**

Developing Communicative Competence Through the Direct Method in EFL Class

Presenter: Shihua Zhang**

Integrate Artificial Intelligence into English Education to Enhance Students' Self-Directed Learning
Motivating and Engaging Adult ESL Learners: A Humanizing Pedagogy Approach

Presenter: Guoran Zhang**

Strategies to Cultivate Belonging in F2F and Online Language Classrooms
Assumption, Awareness, Action: Promoting Critical Reflection with Digital Tools
Using Dance to Motivate Adult ESL Learners Through TPR and Experiential Learning

Presenter: Gina Ghaffari***
*Faculty **Students ***Alumni