Pepperdine Trio Garners Two-Million Dollar Grant for International Research in Partnership with Southern University and A&M College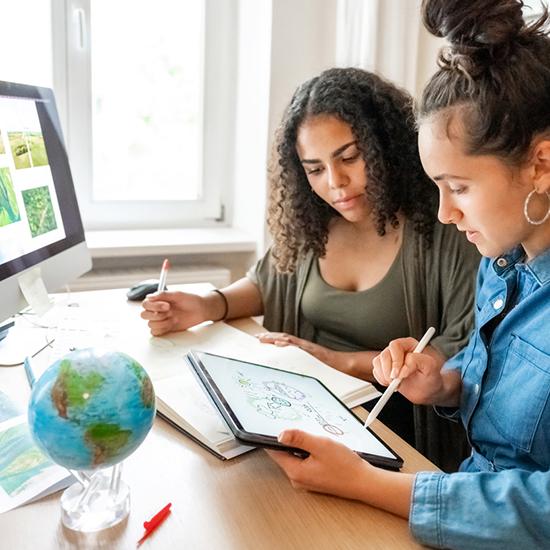 The US National Science Foundation (NSF) has awarded two million dollars to Pepperdine University to carry out a four-year research project entitled "Broadening participation, building STEM competencies, and strengthening identity formation through cross-cultural and international collaboration in project-based learning."
Led by principal investigator (PI) Dr. Eric Hamilton and co-principal investigators (Co-PIs) Drs. Danielle Espino and Seung Lee of Pepperdine's Graduate School of Education and Psychology, the project explores how the process of teenagers developing competencies in STEM fields contributes to – and benefits from – their adolescent identity formation, especially in contexts in which they carry out collaborative projects in a global setting. Joining the work of this GSEP trio is Co-PI and associate professor Nastassia Jones of Southern University and A&M College in Baton Rouge, Louisiana.
The project involves partners internationally. Sites include locations in the US (Baton Rouge, Riverside, Pasadena, Las Vegas, San Antonio, Pittsburgh), Brazil, Mexico, Ghana, Kenya, the United Arab Emirates, and Singapore. Students in these sites formulate projects of interest and carry them out collaboratively. They meet and share results over weekly "global meetups" or zoom sessions that are scheduled carefully to accommodate multiple international time zones.
The original project proposal title, "Asset-Based Learning Environments (ABLE)," was changed during grant discussions with NSF. "The agency is shifting away from projects with acronyms in their project titles and now seeks titles that more informatively explain the substance of the project. The new official title does exactly that," said PI Hamilton. "But we will retain the original ABLE acronym as an abbreviated way to refer to the project and to retain our overall approach to drawing adolescents into understanding one another with an asset-based, rather than deficit-based orientation." Co-PI Espino noted "we have seen in our earlier work that these types of international collaborations establish a shared sense of global STEM social identity that promotes inherently pro-inclusive behavior to validate belonging of all participants, regardless of background and help students to overcome the perceived stereotypes they may associate with their intersecting identities along gender, national, cultural, ethnic, and economic lines. This, in turn, contributes to positive self-identity development."
The Pepperdine team has extensive experience working together not only on other research projects but also with an emerging research methodology called quantitative ethnography (QE). QE seeks to use sophisticated techniques to combine the best of ethnographic research and statistical analysis. "Quantitative ethnography is a very important development in social science research because it takes advantage of huge increases in computing power and data storage while being different from traditional mixed research methods," said GSEP assistant professor Seung Lee. "It allows for the collection of large amounts of data typically associated with qualitative research but uses computational power to uncover patterns and relationships that would not otherwise be visible." Espino and Lee have led several workshops and are teaching a doctoral course in GSEP on QE, which is the principal approach for the research supported by this new grant.
The ABLE grant seeks to "scale-up" and refine work carried out under NSF support and led by Espino and Hamilton in a project called "International Community for Collaborative Content Creation" or IC4 (http://IC4.site). Co-PI Nastassia Jones from Southern University and A&M College in Baton Rouge first heard about IC4 toward the beginning of the pandemic when she served on an invited NSF panel. Her NSF-funded professional development work with school teachers in environmental science using VR technology in the Louisiana wetlands and her interest in building connections with educators and students in the west African nation of Ghana led to many discussions about potential collaboration. An important part of the scale-up that ABLE represents is the opportunity for different sites to develop their own models for international STEM collaboration between adolescents. "Her work is a great match for ABLE because it not only gives the sites opportunities for environmentally oriented projects, but Dr. Jones's work already has important futuristic virtual technology that will motivate and excite the participating students globally," said Hamilton.