Organizational Leadership Students Demonstrate Pepperdine Values In Fast Pitch Belize Competition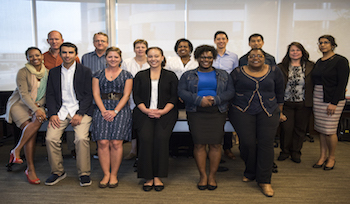 Los Angeles – July 1, 2015 – "Service, purpose and leadership" took the helm for students in the Pepperdine University Graduate School of Education and Psychology (GSEP) Doctorate in Organizational Leadership program as they presented their ideas in the Fast Pitch Belize competition. Combining social responsibility and entrepreneurship into their business strategies, Fast Pitch Belize provides students from various professional backgrounds with the opportunity to inspire social change and innovation within an international context. The event came on the heels of a student trip to Placencia, Belize to meet with and study under local organization leaders. The trip's purpose was to acquire resources for local organizations in a developing country.
"The mission of the university involves service, purpose and leadership and this terrific event personified all three!" said Dr. June Schmieder-Ramirez.
Utilizing a "SharkTank"-like approach, participating students presented for a panel of 15 well-known judges from Irvine, focusing on topics ranging from plastic recycling, leadership incubators, to developing an Entrepreneurial Academy for teenagers. The winning participants consisted of third place winner, Kris Marshall, whose presentation focused on technology; second place winner, Jasmine Darnell, whose presentation focused on Belize EATs; and first place winner; Charlotte Freeman, whose presentation focused on preserving paradise.
The judge's panel consisted of the following: Mr. Sultan Alalshaikh, Mr. Ray Arasteh, Dr. Christie Cooper, Dr. Shreyas Gandhi, Dr. Veronica Glover, Ms. Tallia Hart, Dr. Lydia Ledesma-Reese, Dr. Margaret Moodian, Dr. Michael Moodian, Dr. Nikki Schaper, Dr. Ray Valadez, Ms. Britta Wilson, and Dr. Betty Uribe.
About the Pepperdine University Graduate School of Education and Psychology (GSEP)
The Pepperdine University Graduate School of Education and Psychology (GSEP) is an innovative learning community where faculty, staff, and students of diverse cultures and perspectives work collaboratively to foster academic excellence, social purpose and personal fulfillment. Through its integrative coursework and practical training, GSEP prepares students to serve the needs of others through skilled leadership. GSEP offers six master's and four doctoral programs across its five graduate campus locations throughout Southern California and online. Programs are fully accredited by the California Commission on Teacher Credentialing, the Western Association of Schools and Colleges and the American Psychological Association.
###