Mitch Gurick - Provost Grant Research Publications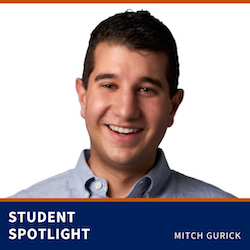 Congratulations to Mitch Gurick, PhD student in the Global Leadership and Change program, for his recently published research studies that were funded by the Pepperdine Provost Grand.
In The Institution of Engineering and Technology journal, Mitch Gurick & Steven Felger researched the relationship between smart cities and communities is anchored on the way organizations leverage technology to impact the quality of living in a city, state, or country. The emergence of smart cities has been welcomed as one of the significant breakthroughs in improving the public sector. In particular, generation of revenue, utilization of technology, and formulation of policies are used to deal with challenges related to smart city infrastructure. Leadership is one area that has faced strategic challenges with the development of smart cities. This study aims to showcase connectivism between smart cities and communities, challenges associated with smart cities, requirements for modern leadership, and opportunities related to smart cities to improve the community.
In "Challenges and Strategies of Virtual Team Leaders: A Global Overview" Gurick, Kayleigh Axtell, and Suelen Schneider Demaria researched the challenges and strategies for virtual team leaders. Leaders across industries at organizations of all sizes have been pushed to work and lead teams virtually from anywhere in completely new ways, challenging the status quo and ways society has worked in the past. Understanding the leadership approach to Global Virtual Teams (GVTs) and how leaders engage team members is explored, through the various challenges and strategies associated with effective team leadership. A global lens was applied given that interviews were conducted with leaders in Brazil and the United States for a perspective from both developing and developed countries. Interviewee insights explore successful virtual work from anywhere tactics via relationship management, communication, and technology platforms, how to inspire team members to continue contributing meaningfully to organizations across digital boundaries, and effective strategies related to creating an environment for positive team members' experiences. Further, the interviews were analyzed through the lens of how the principles and practices of management, organizational culture, and professional-related concerns are impacted as a result of work dynamics with being in a virtual environment. Leaders of GVTs are encouraged to apply these strategies in order to foster team member engagement and motivation.
Mitch Gurick has experience conducting research as a second-year PhD student in the Global Leadership and Change program. Mitch was born and raised in Chicago's southwest suburbs and currently resides in the San Francisco Bay Area. Mitch presently works at Google and has for over 7 years in People Operations (HR) to execute programs that enhance business objectives and support people to achieve excellence. Mitch holds a Master of Science degree in organization development from the University of San Francisco and graduated from Eastern Illinois University in 2015 with a Bachelor of Science degree in business education. In fall 2020, he began the PhD program in Global Leadership and Change at Pepperdine University. Mitch serves on the PhD Advisory Committee at Pepperdine and continues to seek various leadership roles within professional organizations. Equipped with the invaluable knowledge gained through experiences, Mitch dreams of immersing himself in bringing talents to serve others and positively influence and give back to the world at large. He is focused on furthering the field of business or organizational development and teaching courses at the community college or university level. When Mitch is not studying or driving positive change, he enjoys spending time with family and friends, exploring and traveling, reading, and learning.
The Provost Office has been providing $20,000 funding for internal grants to support the research of students in the PhD in Global Leadership and Change program. As Vice Provost Lee B. Kats indicated in his award letters "Each application was evaluated on the completeness of the description of the project and its alignment with the values and mission of the University, as well as the tenets of the PhD in Global Leadership and Change.
Learn more about our Global Leadership and Change PhD program.