A Message From Dean Helen Easterling Williams: GSEP's Official Fall 2020 Plans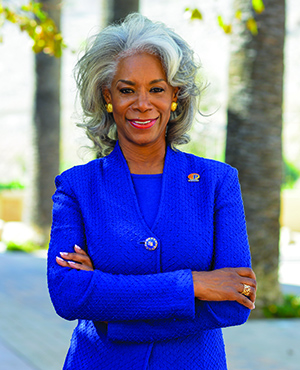 Over the past five months, the COVID-19 pandemic has forced us to make several operational and instructional modality adjustments. Everyone except essential personnel and front line responders has been asked to stay "Safer at Home." Nevertheless, the infection curve has not flattened in our nation and in the state of California. Consequently, as we evaluate the guidance that California governor Gavin Newsom has given schools across the state and the implications that it will likely have for colleges and universities, president Jim Gash has announced that all Pepperdine University fall 2020 semester courses will be delivered through online/remote instruction.
With this news, GSEP will continue to offer each of its academic programs for the fall semester through online/remote instruction. As you know, GSEP has significant experience with remote teaching and learning. Our Education Division has offered hybrid and fully online courses for 27 years. Our Psychology Division has offered three of its five programs fully online for three years in collaboration with 2U, a leading online program manager (OPM). Our success in the remote learning space has been nothing short of phenomenal.
Our students will be encouraged to know that we are not resting on our laurels. We have enhanced the technology in our classrooms with the newly designed Optimal Engagement Immersion Pedagogy (OEIP), an innovative technological model that promotes flexibility and access while allowing students to be actively engaged in a learning modality that permits simultaneous online and face-to-face learning. OEIP training is required of our education faculty and is available to all GSEP faculty. Though we recognize that OEIP may not be necessary with online instruction only, GSEP will be ready with this modality when hybrid instruction is permitted. In addition, our psychology faculty, using the newly adopted 2Pepp Pedagogy, are receiving training through 2U. Faculty, including adjuncts, who use our Sakai Learning Management System are also required to participate in our newly developed Online Instructor Training Program designed by Dr. Natasha Thapar-Olmos, assistant dean of online programs in psychology and associate professor of psychology.
At the forefront of our decision making is the guidance we receive from local, state, and federal authorities and trusted medical experts including the L.A. County Department of Public Health, the California Department of Public Health, our California state government COVID-19 response teams, and the Centers for Disease Control and Prevention (CDC). We will continue to monitor the pandemic closely and respond accordingly, keeping you informed along the way. Until further notice, our faculty and staff will continue to follow telecommuting guidelines and protocols for critical support personnel. Childcare and health concerns brought on or impacted by COVID-19 will be addressed to the best of our ability. Thank you again for all you do.
You have been patient, cooperative, adaptable, and tenacious. Your strength and resilience are inspiring. If you have questions or comments, please contact your enrollment officer whose contact information is listed below. Please do not hesitate to share your thoughts and ideas. We are in this together, and we will get through this together.
Remember, stay safe. Stay healthy, and stay home.
Blessings,
Helen Easterling Williams, EdD Dean and Professor of Education