MA in TESOL Program Adds Specializations And Capstone Pathways For 2022-2023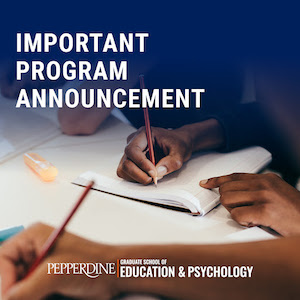 The Master of Arts in Teaching English to Speakers of Other Languages (TESOL) program at Pepperdine's Graduate School of Education and Psychology (GSEP) is delighted to announce exciting program changes, effective in the upcoming 2022-2023 Academic Year.
The MA in TESOL program prepares candidates to teach English as an additional language from preschool through university, both in the United States and beyond. Recognizing the importance of a flexible and customizable curriculum to support the unique needs and diverse career pathways of students, TESOL candidates will now be able to select one of two capstones in their culminating semester at Pepperdine: a practice-focused capstone that best prepares candidates for work as classroom practitioners or education consultants; or a scholarship-focused capstone that prepares candidates for future studies in doctoral programs or research-oriented professions. Importantly, students who successfully complete the MA in TESOL degree may transfer six units towards an EdD or PhD program at GSEP upon acceptance to a program.
In addition, candidates will have the option to earn an additional specialization while enrolled in the MA in TESOL program. These specializations include:
Specializations are optional and will be taken in the Spring semester (one course, 3 units) and Summer semester (one course, 3 units).
With these changes to the MA in TESOL program, GSEP will be the first face-to-face programin the nation to offer a full MA in TESOL degree program with specializations that can be completed in eleven months. In addition, MA in TESOL students will have opportunities to engage with graduate students and professors outside their degree program to increase their professional networks while enriching and diversifying their educational experience. Lastly, customizable capstone courses and optional specializations position MA in TESOL graduates of GSEP as educational leaders with specialized skills that increase their marketability and ability to secure employment post-graduation. Importantly, students will continue to have individualized clinical practicum placements to gain real-world experience teaching in multicultural and multilingual learning environments.
We are excited to share these important changes that will positively impact our students and their success in the future.
We look forward to sharing more about how this program will further prepare our students for a life of purpose, service, and leadership.