#Jamii Connect Series: Starting Your Own Business
Join us April 8th from 12-1 PM PST for GSEP's first of three #JAMII Career Connect series: "Starting Your Own Business". This series will meet monthly, beginning April 8th and continuing on May 13th, and June 10th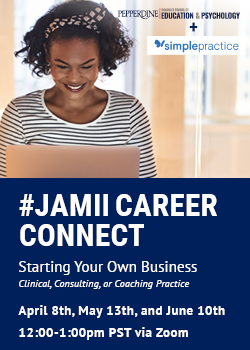 from 12-1 PM PST.
This is a virtual event via Zoom and is being presented in partnership with Simple Practice, the leading cloud-based practice management software for more than 92,000 private practitioners. This event is co-hosted by GSEP Career Services, Alumni Relations, and ELC.
Through involvement with this series, participants will benefit from expert guidance, alumni mentorship, and peer feedback.
From this series, participants will be able to:
Identify specific elements of starting a practice, including actions to get there
Proactively address potential pain points
Understand the benefits and efficiencies that can be achieved through software tools and outside expertise
Registration is now open and FREE!