Helen Easterling Williams Named New Dean of GSEP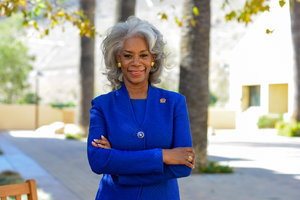 Helen Easterling Williams, EdD, has been named the new dean of the Graduate School of Education and Psychology (GSEP). Williams, a lifelong educator, has served two decades in higher education leadership.
Williams is currently the president of Health Education & Welfare International, a firm that provides consultative services designed to improve the health, education, and welfare of individuals, faith-based organizations, higher education institutions, and elementary and secondary educational organizations.
Prior to her current role, Williams held the deanship at the School of Education at Azusa Pacific University, where she successfully led school reaccreditation efforts (National Council for Accreditation of Teacher Education) and initial accreditation for the School Psychology Program, established the Emerging Technology Center, and developed an international visiting scholar program. She also served as a professor of doctoral studies in the School of Education.
Williams also held senior academic leadership roles at the University of Delaware between 1997 and 2006. She was responsible for Delaware's University Parallel Program that provided research on institutional education opportunities to residents of the state through multiple regional centers. Williams is a member of the prestigious American Council on Education Fellows Program Class of 2004-2005. She participated in the American Council on Education Women's Leadership Forum, and was selected to the HERS/Bryn Mawr Summer Institute for Women in Higher Education Administration.
In 2011, Williams received the Sigma Gamma Rho Sorority, Inc., Excellence in Educational Leadership Award and the City of Los Angeles California Certificate of Appreciation award from Mayor Antonio Villaraigosa.
Williams earned her Bachelor of Arts degree in speech correction with a minor in biology from Jersey City State College and earned a Master of Science degree in speech and language pathology from Towson State University in Maryland. At the University of Delaware, Williams completed her Doctorate of Education degree in educational leadership where she focused on the topic of internationalizing the community college. Her present scholarship focuses on education leadership particularly as it relates to both technology and women.
Williams has assumed her responsibilities as dean on August 1, 2014.