GSEP's Second #JAMII Career Webinar
Careers with a Cause - Social Impact Pathways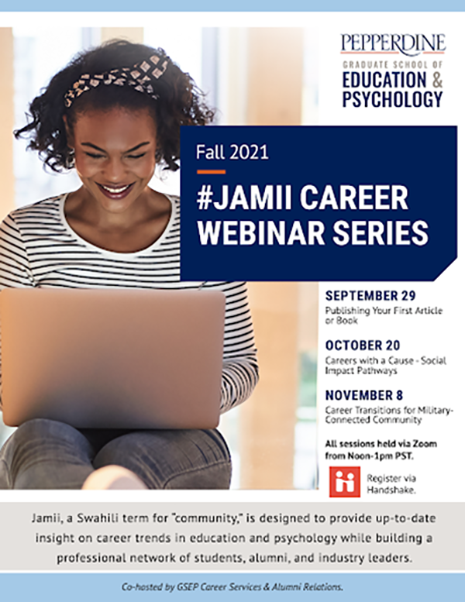 Join us Wednesday, October 20th, from 12-1 pm PST via Zoom, for GSEP's second #JAMII Career Webinar series: "Careers with a Cause - Social Impact Pathways". Jamii, a Swahili term for "community," is designed to provide up-to-date insight on career trends in education and psychology while building a professional network of students, alumni, and industry leaders.
Participants will benefit from expert guidance and alumni mentorship through involvement with this series.
The theme for October is "Careers with a Cause - Social Impact Pathways." What is social entrepreneurship today? For those of you who want to create positive social change throughout your career, see what our alumni are doing as social entrepreneurs in their unique spaces.
Speakers Include:
Elizabeth Grizzle Voorhees: Chief Strategy Officer at Define American
Dr. Nii-Quartelai Quartey: COVID-19 Vaccine Education Campaign, Multicultural Engagement Lead; Sr. Advisor & National LGBTQ Liaison - Office of Diversity, Equity, & Inclusion at AARP
Kacie Scherler: Director of Marketing & Communications at Kibo Group International Inc.; Co-Founder at RE: FARM
Join us for this exciting conversation with alum and industry leaders, followed by an audience Q&A.
Registration is now open and FREE!
Register (Faculty, Staff, Alumni, and Guests)