GSEP's First Fall 2021 #JAMII Career Webinar Series: "Publishing Your First Article Or Book"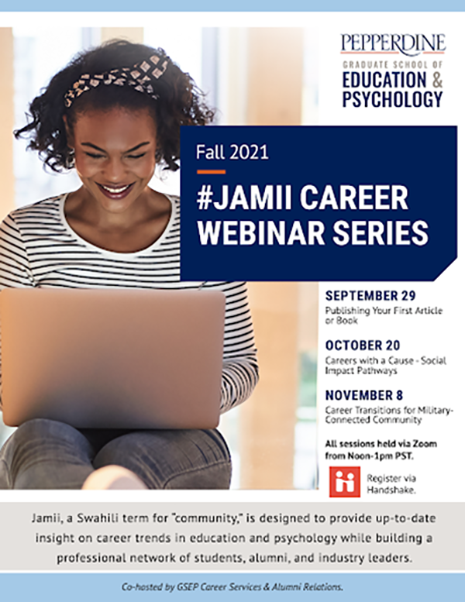 Back by popular demand, join us Wednesday, September 29th, from 12-1 pm PST via Zoom, for GSEP's first Fall 2021 #JAMII Career Webinar series: "Publishing Your First Article or Book." Jamii, a Swahili term for "community," is designed to provide up-to-date insight on career trends in education and psychology while building a professional network of students, alumni, and industry leaders. This event is co-hosted by GSEP Career Services and Alumni Relations.
Participants will benefit from expert guidance and alumni mentorship, through involvement with this series.
The September kick-off session, "Publishing Your First Article or Book," aims to foster a conversation on the most common questions that arise in the publishing process, answered by experts at various stages.
Our panelists include:
Coach Mike Bayer: New York Times bestselling author of BEST SELF: Be You, Only Better, Transformational Life Coach, and Founder-CEO at CAST Centers
Dr. Judy Ho: Clinical & Forensic Neuropsychologist, GSEP Tenured Associate Professor of Psychology, Host of SuperCharged Life podcast, TV Host, and Author of Stop Self-Sabotage
Jan Miller: Founder & CEO at Dupree Miller & Associates - Representing bestselling authors, including T.D. Jakes, Stephen R. Covey, Dr. Phil McGraw, Tony Robbins, Susan Powter, and many more.
Dr. Gabriella Miramontes: GSEP Alum & Visiting Professor - Doctoral Programs, Director of Excellence & Innovation Practices (EIP), and Director of Global Partnerships and Learning - Education Division
Lisa Cuevas Shaw: GSEP Alum & Adjunct Professor, Former Senior Vice President of SAGE Publishing, and current COO and Managing Director at Center for Open Science
Join us for this exciting conversation with alum, faculty, and industry experts, followed by an audience Q&A.
Register Now (Faculty, Staff, Alumni)