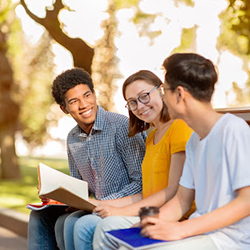 The GSEP Diversity Council provides a forum for the community to engage in events, professional development and meaningful discussions related to multicultural issues impacting the community and the world. These experiences are meant to provide a means for faculty, staff, and students to cultivate their multicultural knowledge, embrace differences, and build community. All students, alumni, faculty, staff, and guests are welcome to attend.
The GSEP Diversity Council planning committee functions as an advisory council and recommending body to the community, providing educational opportunities related to diversity, equity, and inclusion. The advisory council promotes discourse through provocative discussions facilitated by community experts using shared guidelines and coordinates special programming to increase awareness.
If you are interested in participating on the advisory council or have any ideas you would like to share with the council, please contact us at gsep.diversity@pepperdine.edu. Please join us on this journey as we embrace human diversity and seek to advance multicultural proficiency for the entire GSEP community.