GSEP Celebrates Asian American Pacific Islander Heritage Month
This month, we unite to recognize and celebrate the remarkable achievements of Asian Americans and Pacific Islanders throughout our history. May was chosen to coincide with two important milestones in Asia/Pacific American History: the arrival in the United States of the first Japanese immigrants (May 7, 1843) and the anniversary of and contributions of Chinese immigrants to the building of the transcontinental railroad, completed May 10, 1869.
We hope you will be inspired by this reflective message from our professor of Education, Dr. Weina Li Chen, and professor of Psychology, Dr. Abraham Song, as we raise awareness and unite together.
---
Dr. Weina Li Chen
What is your AAPI month message?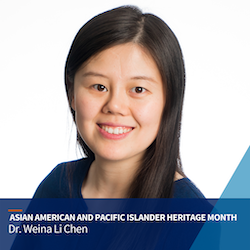 "As an immigrant, I didn't identify as an Asian American for the longest time. Instead, I considered myself as Asian. Period. However, this year, which is my 10th year living in the US, I finally started to identify as Asian American. To me, this change of mindset and evolvement of self-identity is fascinating as I finally feel I belong here. It took me 10 years to reach today's sense of belongingness, and I wonder how long it would take for our ancestors who did not speak the English language, had no education, and had no resources to begin their lives here would feel the same way. I want to recognize the unspoken sufferings, resilience, and contributions Asian American and Pacific Islander communities have experienced and celebrate us as a part of US history and culture."
What does AAPI month mean to you?
"To me personally, this is a month to learn more about AAPI history and become more aware of current events. Asian American and Pacific Islander history and culture are a part of American history and culture."
What advice would you give to people in your field?
"I would advise educators to not only learn about and celebrate AAPI history and culture during AAPI Heritage Month but to continue to learn and celebrate AAPI, as well as learn and celebrate all histories and people of America."
Who inspires you?
"Grace Lin, a children's book author and illustrator."
Dr. Weina Li Chen is a third-generation Korean descendent born and raised in China. She immigrated to the U.S. in 2012. Dr. Chen is a Visiting Instructor at the Graduate School of Education and Psychology, Pepperdine University, and currently teaches in the MA in TESOL and MS in Leadership programs. Her academic backgrounds are global leadership and change, education, and management. With a decade of teaching experience to learners of all ages, Dr. Chen found particular passions in educational technologies, learning design, world language learning, and teacher leadership in the classroom. Dr. Chen is a frequent presenter and a peer reviewer at statewide and international conferences. She has also developed multiple language programs for local schools and universities and is the founder and past president of CABE Mandarin. Dr. Chen is currently involved in a training curriculum design for K-12 educators on Asian American history.
---
Dr. Abraham Song
What is your AAPI month message?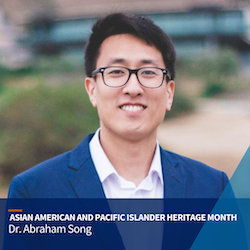 "I have tremendous respect for AAPI first-generation immigrants, who moved to America and worked odd jobs in order to build a better future for their children."
What does AAPI month mean to you?
"I'm so grateful to live and work in a nation built around the idea that all people are created equal, whether White or Black or AAPI. It's great this nation welcomes and celebrates diversity."
What advice would you give to people in your field?
"I hope the AAPI scholars will be a force for good."
Who inspires you?
"My in-laws moved to LA about two decades ago as immigrants and overcame all obstacles to build a future for their children."
Dr. Abraham Song teaches courses on research methods and public policy. His current research examines state business incentives and digital platforms. In one stream of research, he conducts a program evaluation of state business incentives. In another stream of research, he studies the emergence of digital platforms and their implications for entrepreneurship and policy. Dr. Song is a research affiliate at the Milken Institute's Center for Regional Economics and California, conducting research to inform and activate innovative economic and policy solutions to drive job creation and industry expansion. His research was awarded the Provost's Office Dissertation Fellowship, Wilkes Fellowship (D.C. Policy Center), Best Paper Award at the Association of Collegiate Schools of Planning (ACSP), and the Vernon E. Jordan, Jr. Doctoral Fellowship (Economic Club of Washington D.C.).