Four Master of Science Degrees Now Offered 100% Online
The Changing Landscape of Graduate Education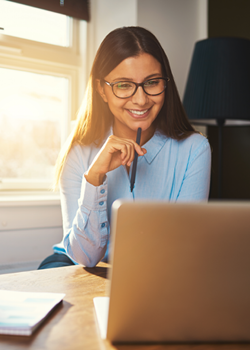 Pepperdine's Graduate School of Education and Psychology (GSEP) has historically strengthened programs and fulfilled its mission through new and reimagined endeavors. There are many reasons why this approach must continue if we are to stay competitive and sustain long-term growth.
GSEP has developed innovative programs that balance the reality of a changing educational environment with fulfilling our mission to foster academic excellence, social purpose, meaningful service, and personal fulfillment.
With these dynamics in mind and in light of the challenges brought about by the recent pandemic, GSEP leadership has decided to now offer four MS programs 100% online with a hybrid option by implementing innovative technology and learning approaches.
But beyond the pandemic, the tumultuous, fast-changing world continues to demand of us to be agile and mobile to avoid becoming obsolete and irrelevant. To meet your educational and career growth needs, these programs offer a change in degree objective from one program without any challenges or loss of credit all the way to the end of your first year of study. To allow further progression of your career objective, should you choose to pursue a doctoral degree with us, you can transfer up to 9 units of your coursework to the doctoral program and save nearly $15,000.
Starting in the fall 2020 term, this new and unique model of synchronous and asynchronous learning gives students the ability to attend classes online with their cohort who opt to participate in-person. Students may change their modality of learning from online or in-person term to term, providing ultimate flexibility and convenience.
Four Programs Now 100% Online:
​Initially designed as online-hybrid programs, students would meet together in-person once per term with their cohort while the majority of the classroom experience was online. These in-person opportunities will continue welcoming students to the West Los Angeles campus one weekend per term, but now they may choose to join the session online. An immersive welcome experience will also take place on the Malibu campus at the beginning of the first term for every incoming cohort, which will be strongly encouraged but not required.
Why Consider One of These Four MS Degrees?
With this new online offering, students entering may potentially study anywhere in the United States or around the world.*
Each program is offered in both fall and spring, takes only 20 months/5 terms to complete, and requires no GRE.
GSEP offers $5.5 million in scholarships every year, making it affordable to complete your master's at a top-ranked university.
Shared foundational courses provide the option to change your course of study to one of the three other MS programs.
These are progressive degree programs, meaning students may earn credit towards a doctorate while concurrently completing a master's degree. Up to 9 hours of credit may be applied to a doctoral degree within the School of Education, enabling candidates to reduce costs and save time to complete both degrees.
Due to COVID-19, students starting in fall 2020 will be attending classes 100% online for the first term. When it is safe to return to campus for face-to-face instruction, those students in the fall 2020 cohort will also have the choice to engage 100% online or in-person.
Take the Next Step
The enrollment process is quick and easy. The first step is to fill out a short online application for admission, which usually takes less than 15 minutes. We encourage prospective students to complete the application process as soon as possible to save your seat in the cohort and campus of your choice. Request more information, register for the next information session, or submit your application now. Classes for the fall term begin on September 8, 2020, and the spring term begins on January 4, 2021.
*GSEP continually monitors developments in state laws in each state in which we enroll online students and, if authorization is or becomes necessary, will seek to obtain such approvals. For these reasons, prospective students are encouraged to apply and contact their Enrollment Officer to discuss state authorizations.