The Forbes School of Business and Technology Presents: 2021 Thought Leader Summit
Recharging the Workforce featuring Dean Helen Williams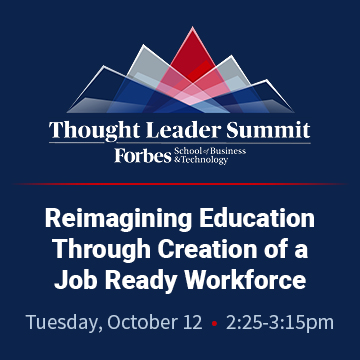 Join us on Tuesday, October 12 for a free, all-day, virtual event hosted by The Forbes School of Business and Technology, that will bring together key industry leaders to forecast the future of work and offer insight and advice for reenergizing the contemporary workforce. We are thrilled to announce our Dean Helen Easterling Williams will be featured on Reimagining Education Through Creation of a Job Ready Workforce panel from 2:25 pm - 3:15 pm PT.
"The Forbes School of Business and Technology® 2021 Thought Leader Summit theme is like a mini-degree on current and future business trends, including technology, economics, and workforce development. Expert panels will discuss industries undergoing rapid change, including tourism/hospitality/travel, healthcare, technology, media/professional services. We hope you can join the discussion on October 12, 2021."
-Rich Karlgaard, Futurist/Columnist/Forbes and Forbes Asia
Hear from keynote speaker, Chairman and Editor-in-Chief of Forbes Media, Steve Forbes, who will share his five-year economic forecast. Panel discussions will feature speakers from FSBT Board of Advisors as well as senior executives from top global companies including Walt Disney World, MetLife, AT&T, Ernst & Young, Korn Ferry, Comcast/NBC/Universal, Pepperdine University, C-Suite Network, Hacking HR, SHRM, Center for Creative Leadership, Media Minefield, Quality Shareholders Group, thought leader: Oleg Konovalov, and celebrity voice coach: Roger Love!
Watch the teaser video.
We hope that you will be able to join the Summit's attendees and participants from around the world and learn from innovative leaders on contemporary issues affecting business, the workforce, and society today.