Faculty Spotlight: Judy Ho (PhD, ABPP, ABPdN, CFMHE)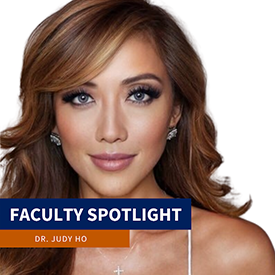 Congratulations to Judy Ho, PhD, ABPP, ABPdN, CFMHE, Associate Professor of Psychology & GPS IRB Chair, on her upcoming book release. Max Dubrow reveals what teens wish their parents understood with science-driven clinical insights and parenting strategies from Dr. Judy Ho to break it down for parents. The book is called I'll Give it to you Straight-ish by Max Dubrow and Dr. Judy Ho, and is set to release on November 9th, 2021.
Whether your child is just entering their teenage years or on the way out of them, Max Dubrow provides a peek into what teens like herself are experiencing—and what they want you to know about it. No previous generation has faced the combination of anxiety, school and parental pressure, social media, friend and relationship complexities, and gender and sexuality discussions—not to mention Covid—that this one is facing right now.
In addition to Max's perspectives, the book includes:
insights from clinical and forensic neuropsychologist Dr. Judy Ho
key takeaways for parents
quotes from teens
Judy Ho, PhD, ABPP, ABPdN, CFMHE is a licensed and triple board-certified Clinical and Forensic Neuropsychologist, a tenured Associate Professor at Pepperdine University, television and podcast host, and published author. She conducts neuropsychological assessments and serves as an expert witness in her private practice, hosts an active research lab, provides expert commentary to media, and is a sought-after public speaker.
Learn more about our master's in psychology programs.