Dr. Susana Beltran-Grimm - AERA 2022 LRI Outstanding Dissertation Award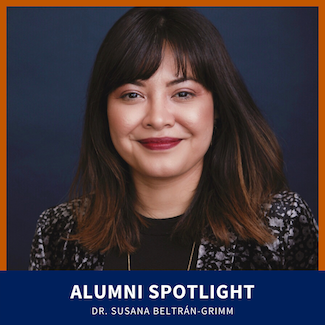 Congratulations to GSEP Alumna Dr. Susana Beltrán-Grimm (EDD '21) for winning the 2022 American Educational Research Association's Latina/o/x Research Issues SIG Outstanding Dissertation Award. She will be honored at the Latina/o/x Research Issues (LRI) Business Meeting on Saturday, April 23, 6:00 pm PST.
Susana's dissertation examined Spanish-speaking Latine mothers in co-design workshops to co-create mathematics activities for their young children. The study's framework centered on the social and cultural context that latine mothers use to engage their children ages 2-5 in mathematics learning and development. Susana's research yielded both a system prototype and a set of design principles that can be used to inform future research and development on co-design methodologies for early learning and family studies.
Susana Beltrán-Grimm is a postdoctoral research associate in the Human Development and Family Studies at Purdue University. Susana holds an EdD in Learning Technologies from Pepperdine University. Her program of research and practice includes the study of community-based research through participatory methods like co-design approaches to produce equitable learning environments for Latine families and children.
Learn more about our Education in Doctoral Programs.