Dr. Sonya Sharififard - Amplify Fellows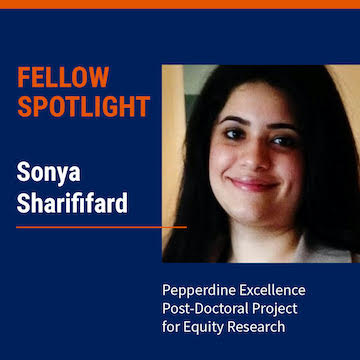 Congratulations to Dr. Sonya Sharififard who is part of the prestigious, inaugural cohort of Amplify Fellows from the Pacific Council. She is an exemplary fellow representing the best of the GSEP spirit. AMPLIFY, hosted by the Pacific Council on International Policy, is an inaugural leadership development program for emerging early to mid-career professionals who have been traditionally underrepresented in foreign affairs. Their goal is to be a national advocate for diversity in foreign policy by amplifying diverse voices and developing an inclusive vision of global policy. The Pacific Council AMPLIFY includes a cohort of 8 Fellows, each arriving with a local-to-global project where they are committed to making an impact by doing globally-oriented work in their local communities.
Dr. Sharififard is part of the inaugural Pepperdine Excellence Postdoctoral Project for Equity Research (PEPPER). Dr. Sharififard served as the inaugural Managing Editor of GSEP' first peer-reviewed publication, The Scholarship without Borders Journal from 2020-2021. Dr. Sharififard's extensive research and scholarship centers around leadership, organizational change, teaching and learning philosophy, and scholarly communications. Dr. Sharififard recently completed her doctorate in Global Leadership and Change at Pepperdine University. Her dissertation explored the role of campus food pantries at public college and university campuses. Dr. Sharififard has co-authored book chapters in New Horizons in Positive Leadership and Change (Springer 2020) and Workplace Spirituality and Fulfillment (Palgrave 2018). She has presented at major international conferences and serves on the review panel for various associations and institutions in North America, Europe, and Asia, including the American Educational Research Association (AERA), the Academy of Management (AOM), and the International Leadership Association (ILA). Her current research focuses on advancing student success and creating equitable food systems. Dr. Sharififard holds a PhD in Global Leadership and Change from Pepperdine University, a MA in Organizational Leadership from Woodbury University, and a BS in Business Management from The Fashion Institute of Design and Merchandising.