Dean's Distinguished Lecture Series is Renamed for Creator Margaret J. Weber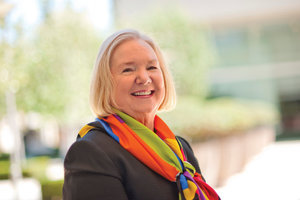 Dean Margaret J. Weber developed the Dean's Distinguished Lecture Series in 2010 with the generous support of Susan and Don Rice. Upon hearing of her retirement, the GSEP community came together to honor her legacy of exceptional leadership and endowed the lectures as the Margaret J. Weber Distinguished Lecture Series.
"My vision for the lecture series was to provide a rich learning experience for our students, staff, and faculty while enhancing the reputation of the school," said Dean Weber. "I am thrilled to know that the program will continue and humbled by the honor of the endowment."
The lecture series was founded by Dean Weber to inspire dialogue about the challenges and leadership opportunities in diverse communities across the world. This forum educates students, faculty, staff, and community members beyond Pepperdine.