Dean's Annual Report (2020-2021)
A Word From Dean Helen Easterling Williams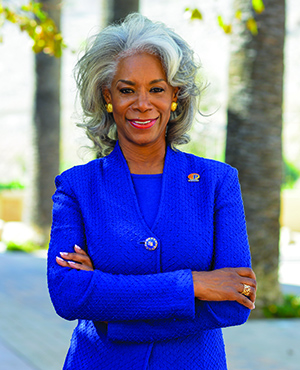 It is my sheer delight to present to you the Pepperdine University Graduate School of Education and Psychology Annual Report for 2020–2021. While one document cannot possibly include all of the challenges and accomplishments of any particular academic year, I believe this one serves as a good representation of that which has transpired at GSEP. Though this unprecedented pandemic negatively impacted our sense of normalcy, it could not cause us to stray from our mission. In fact, I believe we became even more focused on the mission and finding innovative ways of accomplishing it.
In his book, Leaders Eat Last, author Simon Sinek focused heavily on the people, the employees, as the heart of the organization. He writes, "To see money as subordinate to people and not the other way around is fundamental to creating a culture in which the people naturally pull together to advance the business." If you focus on meeting the needs of the people, the people will meet the needs of the organization. In short, that is the GSEP story. This report is full of the accomplishments of our esteemed faculty and dedicated staff. Each one gave 110%. We put God first, and He blessed the works of their hands. Our accomplishments are voluminous.
Though our world has suffered in many ways and continues to struggle against major calamities, with the support of our devoted Board of Visitors, alumni, and extended community, GSEP has experienced its best year to date. As we celebrate our 50th anniversary this year, I invite you to join us in our quest to serve the least, lost, lowly, lonely, and loveless.
There's a natural inclination to applaud me for doing a great job at GSEP, but as Simon Sinek says, "It is great people that make the guy at the top look like a genius." I thank God for the great people at the Graduate School of Education and Psychology.
Your Dean,
Helen Easterling Williams, EdD
Dean and Professor of Education
Graduate School of Education & Psychology
Pepperdine University
---
The Graduate School of Education and Psychology (GSEP) is an innovative learning community where faculty, staff, and students of diverse cultures and perspectives work collaboratively to foster academic excellence, social purpose, meaningful service, and personal fulfillment. As a graduate school within a Christian university, GSEP endeavors to educate and motivate students to assume leadership roles in professions that improve and enrich the lives of individuals, families, and communities. GSEP embraces human diversity—which we believe to be the natural expression of God's creation—in our work to advance learning and service. GSEP advances, sustains, and advocates for multicultural proficiency.
The strategies for accomplishing this mission are:
Promoting discourse that values each member's background, experiences, and perspective
Recruiting, retaining, and advancing diverse students, staff, and faculty
Developing curricular models for practice in educational and psychological environments
Reaching out to broader communities to promote understanding and facilitate solutions to diversity challenges
Our spirit, energy, and actions will be an inspiration to all in the fields of education and psychology.