Dean's Annual Report (2019-2020)
A Word From Dean Helen Easterling Williams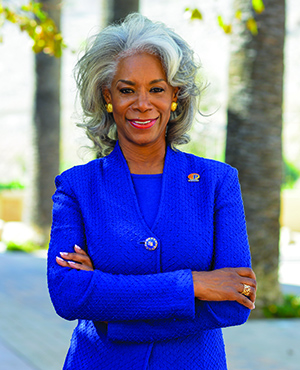 As many of you may know, Pepperdine University continues to await specific guidance from the State of California and the Los Angeles and Orange County Departments of Public Health regarding our ability to hold classes on Pepperdine campuses in the spring semester. At this time, Los Angeles County is classified in the "Widespread" or "Purple Tier" and Orange County is in the "Substantial" or "Red Tier" according to the State of California Blueprint for a Safer Economy. Consequently, depending on where our graduate campuses are located, we are either precluded from or substantially limited in our options to hold in-person classes and student gatherings on campus. Additionally, we do not currently have a clear understanding from local health agencies of when that may change.
The Graduate School of Education and Psychology and Pepperdine University in general continue to advocate for the return of our students to our campuses and to safely deliver classes in-person as soon as possible. However, we also recognize that applicants and current students need GSEP to promptly advise on course modality in a way that allows them to make the most informed choices possible regarding their enrollment, degree progress, and near-term academic career. Consequently, to best support this planning, while also continuing to safeguard the health and well-being of faculty, staff, and students, GSEP is announcing that it will hold all traditional on-campus and hybrid education and psychology courses in an online format for spring 2021. Our regular online programs will also remain fully online. If changes occur, all students, faculty, and staff will be notified immediately. We recognize that this may pose challenges for international students and students needing practicum/internship hours. We are addressing these special circumstances separately. Please look forward to receiving additional information in subsequent communications as it becomes available.
At GSEP, we believe that we are uniquely prepared to continue offering our courses and programs in an online format. Where utilized, our Optimal Engagement and Immersion Pedagogy significantly enhances our ability to technologically enrich the instructional experience, and we continue to use telehealth services to meet counseling needs. While we know that many students, like us, are eager to return to an in-person class environment, this decision is being made in a way that carefully considers the distinctive needs of the various programs at GSEP. It is also designed to support our graduate students who must make travel plans and hotel accommodations well in advance.
For more specific information about your specific academic requirements, please contact your enrollment officer using the information below. GSEP stands ready to support you if you need any assistance during this time. We are grateful for your understanding and look forward to welcoming you for in-person classes soon.
Sincerely,
Helen Easterling Williams, EdD Dean and Professor of Education